by Steve St. Angelo, SRS Rocco Report: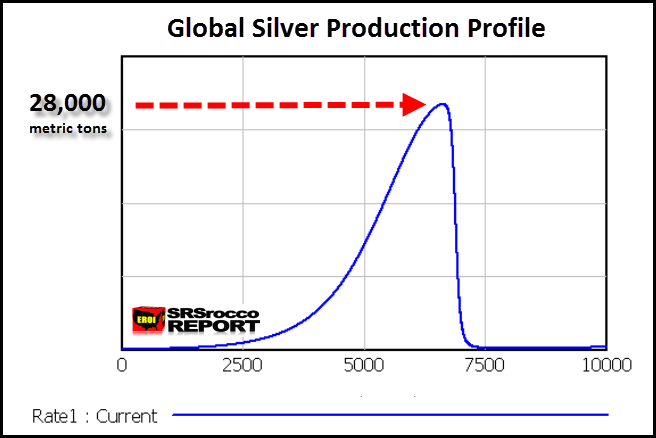 The global economic and financial system is in much worse shape than I originally thought. New data and information suggest that the collapse will occur much quicker and with more dire results. This will cause global silver production to literally fall off a cliff within the next decade.
Again, this is far worse than anything I imagined before.  As I mentioned, new information and data point to a rapid "Thermodynamic collapse" of the U.S. and Global Energy Industries.  According to Louis Arnoux, from his article, Some Reflections On The Twilight Of The Oil Age:"
Within 10 years the Oil Industry as we know it will have disintegrated.
Furthermore, another quote from the article citing the Hills Group:
B.W. Hill considers that within 10 years the number of petrol stations in the US will have shrunk by 75%…
I plan on writing several long articles on this new information based on a 3-part article by Louis Arnoux.
That being said, global silver production is likely going to collapse at a much faster pace than I originally forecasted.  Here is my chart of estimated global silver production: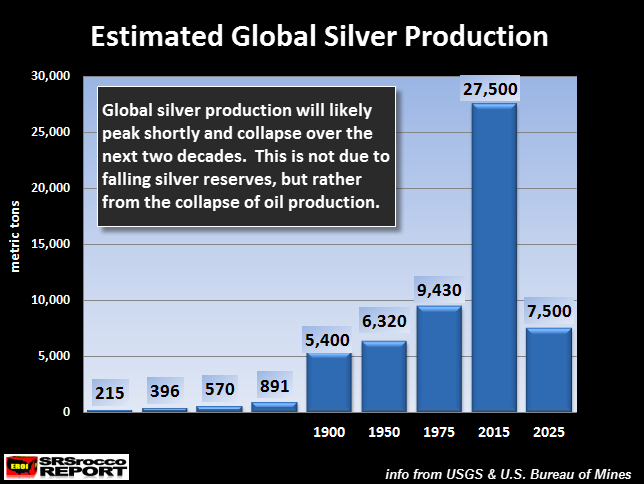 Global silver production will likely peak at 28,000 metric tons (or less)…  500 metric tons higher than the amount reached in 2015.  Currently, global silver production has increased slightly in the first five months of 2016 compared to the same period last year.  This was mainly due to Peru ramping copper production by 50% Jan-Jun 2016, thus pushing up it's silver production 15%.  The majority of Peru's silver production increase has come from a by-product of its surging copper production.
Regardless, the Fed and Central Banks attempt to prop up the Global Economic and Financial System will soon hit a BIG WALL… and this is the THERMODYNAMIC ENERGY WALL. 
The notion that the Elite will continue to control the Fiat Monetary System through market intervention for the next century is complete HOGWASH.  Thus, the LOUSY CONSPIRACY THEORIES forecasting that the elite will have a one world government, are completely unfounded and lack any logical sense whatsoever.
Again…. things are going to collapse at a much faster pace than I previously thought.
Read More @ SRSroccoreport.com
Help us spread the ANTIDOTE to corporate propaganda.

Please follow SGT Report on Twitter & help share the message.