by Michael Snyder, End Of The American Dream: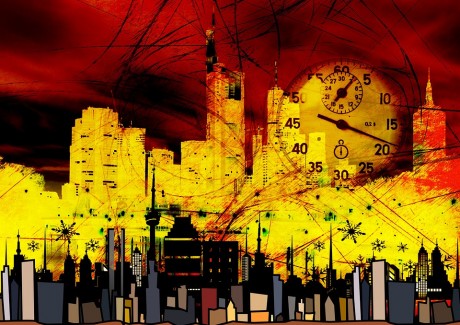 Violence and drugs are flooding the streets of our major cities, but those that live in cushy suburban neighborhoods may not have heard much about this because the mainstream media is so obsessed with covering Donald Trump and Hillary Clinton. As you will see below, drug overdose deaths involving heroin and prescription opioid pain relievers have soared to unprecedented levels, and in some areas of the country health authorities are finding themselves absolutely overwhelmed by overdose cases this summer. Law enforcement officials are doing what they can to combat this epidemic, but because Barack Obama has left our borders wide open the gangs are able to transport these dangerous drugs into this country with ease. As a result, we are facing a crisis on a level that we haven't seen since at least the 1980s.
Let's start with some hard numbers. The following comes from the official CDC website…
More people died from drug overdoses in 2014 than in any year on record. The majority of drug overdose deaths (more than six out of ten) involve an opioid.1 And since 1999, the number of overdose deaths involving opioids (including prescription opioid pain relievers and heroin) nearly quadrupled.2 From 2000 to 2014 nearly half a million people died from drug overdoses. 78 Americans die every day from an opioid overdose.

We now know that overdoses from prescription opioid pain relievers are a driving factor in the 15-year increase in opioid overdose deaths. Since 1999, the amount of prescription opioids sold in the U.S. nearly quadrupled,2 yet there has not been an overall change in the amount of pain that Americans report.3,4 Deaths from prescription opioids—drugs like oxycodone, hydrocodone, and methadone—have also quadrupled since 1999.5
And keep in mind that those numbers are two years old. Things have gotten much, much worse since then, and this summer the numbers are off the charts.
For example, just check out what is currently going on in the Cincinnati area…
With an estimated 78 overdoses Tuesday and Wednesday alone, and an estimated 174 overdose cases in emergency rooms in less than a week, officials are scrambling to attack a heroin crisis of a magnitude they've never had before.

"This is unprecedented to see as many alerts as we've seen in the last six days," said Hamilton County Health Commissioner Tim Ingram. He was referring to a surveillance system that alerts the public health department when an unusual number of drug-related emergency-room encounters occur.
Elsewhere in Ohio, things are equally as bad. The following is from a report about the overdose epidemic in Richland County…
One week in August produced 51 suspected drug overdoses and three deaths in Richland County, providing more fresh evidence the local heroin crisis appears to be rapidly escalating.

The almost daily surge in overdoses impacts people well beyond addicts and their families, taking a growing toll on workers on the front line of helping people.

Dr. Joseph Bocka, an emergency room physician at OhioHealth Mansfield Hospital, said it's not uncommon for people drop off overdose victims and leave, to find patients with a needle sticking out of their arm or to treat same person multiple times. Some are more concerned about losing their high than dying.
So where are the front page stories about this on the big mainstream news websites?
Can't they stop talking about Clinton and Trump long enough to focus on the fact that countless numbers of Americans are becoming addicted to extremely dangerous drugs and many of them are dying?
On the west coast, similar things are happening…
In just 12 days, California's Sacramento Valley has seen 42 opioid overdoses  — resulting in 10 deaths. Even in a country that's watched opioid addiction spread at an alarming pace, this kind of overdose rate isn't normal.

At least, up until now.

These overdoses weren't caused by the prescription painkiller the users were believed to have been taking, called Norco. Instead, they had taken a street pill disguised to look like Norco that contained a chemical 50 times more potent than heroin: fentanyl.
It is said that Fentanyl is up to 100 times more powerful than morphine. Nobody should ever be taking this outside of a medical setting, because the risk of overdose is extremely high.
Read More @ EndOfTheAmericanDream.com
Help us spread the ANTIDOTE to corporate propaganda.

Please follow SGT Report on Twitter & help share the message.