by Michael Snyder, End Of The American Dream: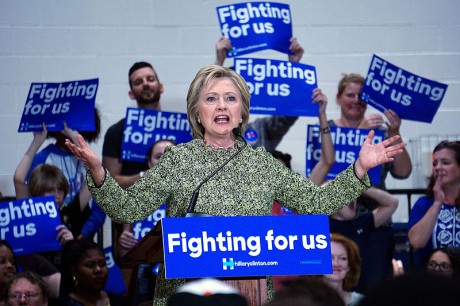 Hillary Clinton's health is starting to become a major political issue, and there are many that believe that her health problems may force her to drop out before we even get to election day. On Sunday evening, the Drudge Report ran a photo of Hillary struggling to get up a set of stairs along with this headline: "2016: Hillary conquers the stairs". Well, it turns out that particular photo was about six months old, but it sparked a much deeper debate about Hillary Clinton's health. As you will see below, Clinton has been having seizures even while in public, she has been regularly having horrible coughing fits, she has a very large hole in her tongue that has not been explained, and she has been falling down way too often for a woman her age. No matter whether you are for her or against her, it should be apparent to everyone that this is a woman that has some very serious health issues.
Let's start with Clinton's very curious behavior during a recent campaign stop. When she suddenly froze up, she was rapidly approached by a large African-American man that appeared at first glance to be a Secret Service agent. The following comes from Gateway Pundit…
In a recent campaign stop in a Union Hall in front of a sparse crowd, at about the time when some liberal protesters began to protest, Hillary Clinton suddenly froze. She looked dazed and lost. Seeing this, a group of men rushed to assist the candidate on the stage. One man however gently pats the candidate's back and then says, "Keep Talking."

An expert on Secret Service tactics told TGP Secret Service agents would not touch a candidate in the manner that this individual did and especially Hillary Clinton. It has been widely reported on Hillary's disdain for the agents who work to protect her. The man who touches Hillary may be a member of Hillary's close staff – but he is NOT a Secret Service agent.
Since that time, it has been reported that the very large African-American gentleman that was initially reported to be a Secret Service agent is actually a doctor instead, and as you can see here it appears that he is carrying with him the kind of auto-injector that is commonly used to inject someone with Diazepam…
If you are not familiar with Diazepam, it was originally called Valium. Here is more on this particular drug from Wikipedia…
Diazepam, first marketed as Valium, is a medication of the benzodiazepine family that typically produces a calming effect. It is commonly used to treat a range of conditions including anxiety, alcohol withdrawal syndrome, benzodiazepine withdrawal syndrome, muscle spasms, seizures, trouble sleeping, and restless legs syndrome.[3] It may also be used to cause memory loss during certain medical procedures.[4][5] It can be taken by mouth, inserted into the rectum, injected into muscle, or injected into a vein.[5] When given into a vein, effects begin in one to five minutes and last up to an hour.[5] By mouth, effects may take 40 minutes to begin.[6]
It is quite noteworthy that this drug is often used to treat "seizures", because Clinton seems to be having them with frightening regularity these days. In this video, you can watch Clinton go into a seizure in public with a bunch of reporters around…
Read More @ EndOfTheAmericanDream.com
Help us spread the ANTIDOTE to corporate propaganda.

Please follow SGT Report on Twitter & help share the message.