by Pam Martens and Russ Martens, Wall Street On Parade: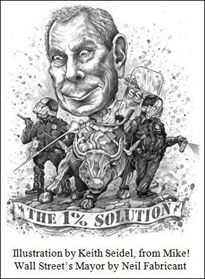 Michael Bloomberg served three terms as the Mayor of New York City from January 2002 to January 2014. The last term was made possible by the Mayor spending an estimated $60-$90 million of his own money repealing the two-term limits – an act that outraged many New Yorkers.
According to Forbes, during Michael Bloomberg's 12-year stint as Mayor, his wealth exploded more than ten-fold, from $3 billion to $31 billion. The bulk of Bloomberg's wealth has derived from leasing his Bloomberg data and news terminals at a cost of approximately $24,000 per terminal per year to tens of thousands of Wall Street trading desks and global banks around the world.
The Mayor's wealth and where it comes from is a reality that poses an inherent conflict of interest for any news outlet but it is especially so for a news organization like Bloomberg News that is supposed to be investigating the very Wall Street firms that write checks to pay for their Bloomberg terminals.
While the Mayor was running the City of New York, maintaining a hands-off approach to the Bloomberg newsroom, investigative reporters there regularly distinguished themselves. Two blockbuster stories came out of that era that greatly advanced the public interest thanks to the courageous reporting of Bloomberg reporters.
Mark Pittman was one of those reporters. His stonewalled Freedom of Information Act requests to the Federal Reserve led to Bloomberg News filing and winning a Federal Court case against the Fed. The Fed was forced to turn over documents showing that it had secretly funneled a cumulative $13 trillion in below-market-rate loans to Wall Street banks and foreign banks during the financial crisis. Pittman died at age 52 in 2009. (A Bloomberg News story carried in the Washington Post at the time of his death reported that "He had heart ailments, although the cause of death was not immediately clear.")
The reporting team of Stephanie Ruhle, Bradley Keoun and Mary Childs broke the story in 2012 on JPMorgan Chase's wild gambles in derivatives – a story that infamously became known as the London Whale. Those revelations led to Congressional hearings; an intense investigation by the U.S. Senate Permanent Subcommittee on Investigations that revealed the bank had been using depositors' savings to make its gambles; $1.2 billion in fines; and losses of at least $6.2 billion on JPMorgan's wild gambles. Ruhle has moved on to MSNBC; Keoun is now a freelance writer; Mary Childs is now reporting for the Financial Times.
Read More @ WallStOnParade.com
Help us spread the ANTIDOTE to corporate propaganda.

Please follow SGT Report on Twitter & help share the message.