by Steve St. Angelo, SRSRocco Report: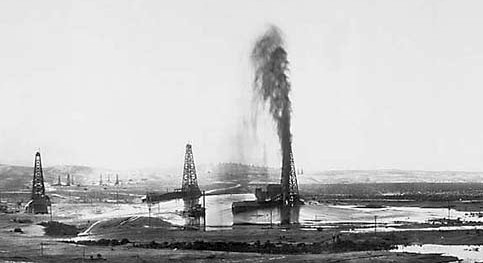 The situation Americans face in the future will be nothing like they have experienced in the past. While we have seen old footage and heard stories about the Great Depression (starting in 1929), we have no idea how bad things really were during the 1930's.
At the time, approximately 25% of American population were farmers. Thus, when things really got bad, folks in the cities could move out and stay with their relatives on the country farm. This is not an option for most Americans today as only 2% of the population are farmers and ranchers (source).
After WWII, Americans left the farms in large numbers for the allure of the great life in the cities and suburbs. For decades, living in the city or suburb offered Americans a much easier way of life as the United States had plenty of cheap energy and resources to tap into.
Matter-a-fact, after the 1930's Great Depression, U.S. oil production continue to increase for nearly 40 years: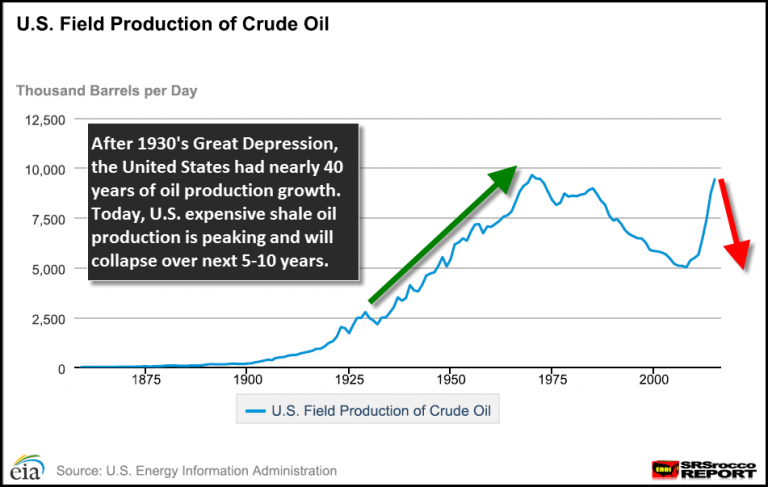 Even though U.S. oil production declined some years (1930-1970), overall growth steadily increased in a linear fashion. However, the recent surge in U.S. oil production (2007-2015), mainly due to ramp up of expensive shale oil, moved up exponentially and will likely decline in the same fashion. This will have a profoundly negative impact on the U.S. economy and financial system.
Furthermore, the U.S. was able to pull itself out of the Great Depression due to the fact it was just starting to tap into its huge reserves of cheap, high EROI (Energy Returned On Investment) oil supplies.
For example, the massive Lakeview Gusher in California (1910) had an estimated EROI of 35,000/1: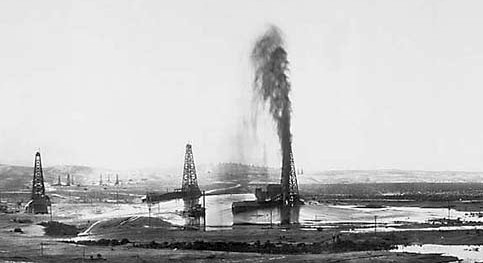 Basically, for the one barrel of energy equivalent burned to drill the Lakeview Gusher, it provided 35,000 barrels of oil. Today, Shale Oil comes in at 5/1 and Oil Sands in Canada is about 4-5/1.
The EROI of U.S. Oil & Gas in the U.S. in 1930 was 100/1. This includes exploration and production. According to white paper, A New Long Term Assessment Of Energy Returned On Investment (EROI) For U.S. Oil & Gas Discovery and Production, the U.S. oil industry was finding 1,200 barrels of oil for each barrel of oil equivalent energy it burned in exploration. Today it has fallen to less than 5/1.
As the U.S. oil and gas EROI continued to decline, especially after 1970, the United States continued to thrive due to the Petro Dollar system and the ability to import high EROI from the Middle East and other oil exporting countries. Unfortunately, this is not a situation that will continue for much longer as the debt in the system has exploded.
Comparing U.S. Debt 1929 vs 2015
It's quite interesting to see how much of a change has occurred since the Great Depression. While things were very bad for Americans in the 1930's, the amount of U.S. public debt per person was very low versus today: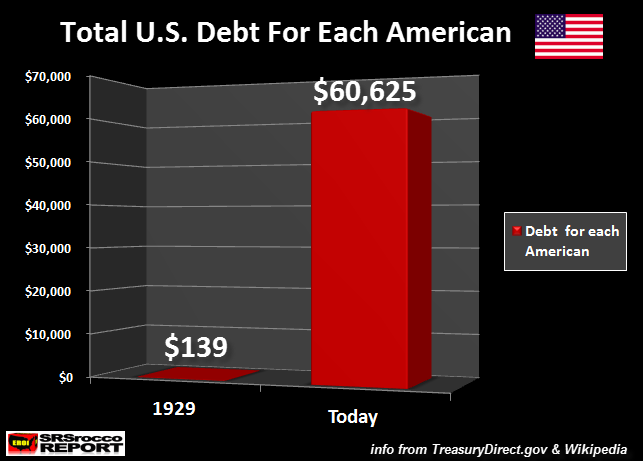 According to several sources, the U.S. population was 122 million in 1929 while total public debt was $16.9 billion. Thus, the average debt per American in 1929 was $139. Compare that to a population of 320 million and $19.4 trillion in debt at an average $60,625 per American today. Total U.S. debt per American is 436 times greater than 1929.
What is interesting about total U.S. debt is that after each World War, the total level of debt declined for several years. For example, after the end of World War I, total U.S. debt fell from $27.4 billion in 1919 to $16.1 billion in 1930 (source). This was also true after World War II when total U.S. debt fell from a high of $269 billion in 1946 to a low of $252.7 billion in 1949. Over the next several, as total U.S. debt continued to increase, there were a few years that experienced declines (1951, 1956 & 1957).
However, after 1957, there wasn't a single year that total U.S. debt declined. It has continue to increase for the past 58 years: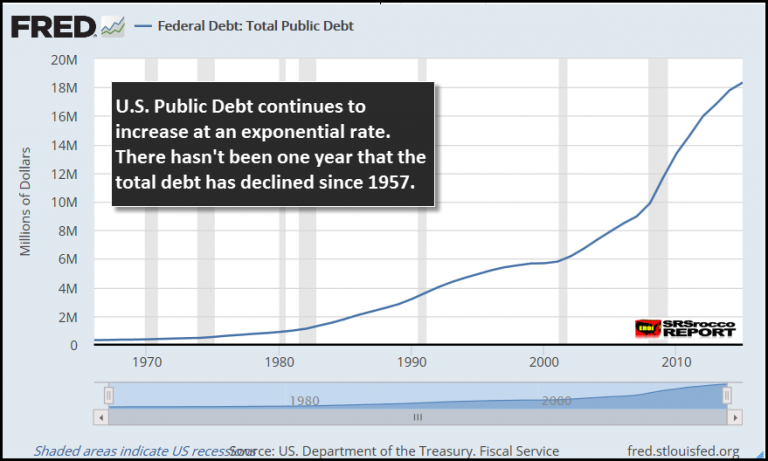 I believe the reason total U.S. debt was able to decline after each World War and during a few years in the 1950's, was due to the relatively high EROI of U.S. oil and gas. Moreover, as cheap domestic U.S. oil production peaked in 1970, oil imports had to increase to supply the ever-growing sprawl of the AMERICAN LEECH & SPEND SUBURBAN ECONOMY.
Read More @ SRSRoccoReport.com
Help us spread the ANTIDOTE to corporate propaganda.

Please follow SGT Report on Twitter & help share the message.