by Michael Snyder, End Of The American Dream: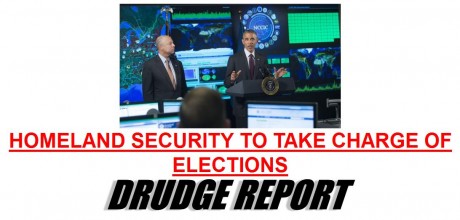 Why does the Department of Homeland Security all of a sudden want to oversee security for the election in November? Just a little while ago I checked the Drudge Report, and I was greeted by the following headline all in red: "HOMELAND SECURITY TO TAKE CHARGE OF ELECTIONS". I was immediately alarmed, because I had already heard about how local election databases had been hacked, and Donald Trump has expressed concern that the presidential election in November could be rigged somehow. So I immediately clicked on the link and it took me to an article from the Washington Examiner…
Even before the FBI identified new cyber attacks on two separate state election boards, the Department of Homeland Security began considering declaring the election a "critical infrastructure," giving it the same control over security it has over Wall Street and and the electric power grid.

The latest admissions of attacks could speed up that effort possibly including the upcoming presidential election, according to officials.

"We should carefully consider whether our election system, our election process, is critical infrastructure like the financial sector, like the power grid," Homeland Security Secretary Jeh Johnson said.
I would definitely agree with Johnson that our election system is critical infrastructure.
But can a Department of Homeland Security that has been packed with Obama appointees actually be trusted to handle the security for our elections in a fair manner?
Unfortunately, I believe that is a legitimate question.
However, I will concede that something needs to be done. Just the other day, FBI Director James Comey admitted that his agency is taking the threat of election cyberattacks "very, very seriously" after a couple of local election databases were successfully attacked. The following comes from ABC News…
Three days ago, Senate Minority Leader Harry Reid, D-Nev., sent a letter to Comey, expressing concern that "the threat of the Russian government tampering in our presidential election is more extensive than widely known and may include the intent to falsify official election results."

In late June an "unknown actor scanned a state's Board of Election website for vulnerabilities" and, after identifying a security gap, exploited the vulnerability to conduct a "data exfiltration," or unauthorized data transfer, the FBI said in a recent bulletin.

Earlier this month, hackers used the same vulnerability in an "attempted intrusion activities into another state's Board of Election system," the FBI said.
The integrity of our elections is absolutely paramount. Without free and fair elections we might as well not even have a country.
So the fact that hackers have proven that they can hack into some of our systems is quite alarming indeed.
According to the Daily Beast, voter databases in Arizona and Illinois were the ones that were victimized…
The FBI's analysis of the hacks, contained in a security alert first reported by Yahoo News, shows that Arizona's elections website was penetrated in June using a common vulnerability that's well known to security experts. Then, in July, Illinois' voter files were accessed apparently using stolen login credentials, which could have been obtained by spear phishing a state employee.
So was much damage done by these hackers?
Read More @ EndOfTheAmericanDream.com
Help us spread the ANTIDOTE to corporate propaganda.

Please follow SGT Report on Twitter & help share the message.