by Joel Pollak, Breitbart: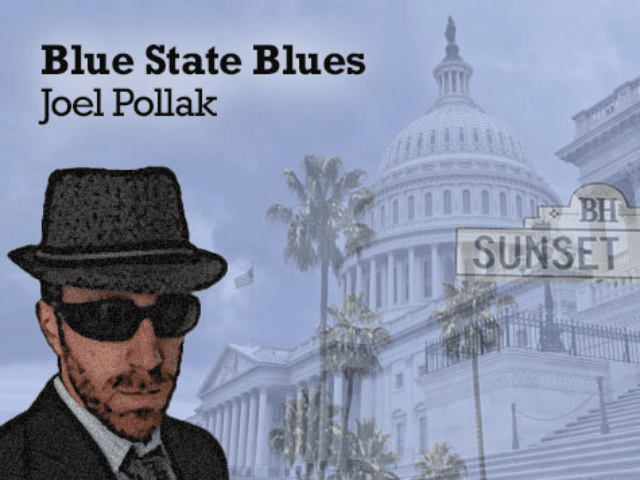 Andrew Breitbart would have been proud: on Thursday, his website became Hillary Clinton's number one target.
In his book, Righteous Indignation: Excuse Me While I Save the World!, Andrew recalled how he warned the Tea Party what lay ahead for them: "I said that they'd be labeled racists and hate mongers and violent criminals, that they'd be depicted as the dregs of society, people to be excluded from dinner parties because of their made-up closet KKK status. They were about to be targeted."
Andrew added: "They need to marginalize and demonize those that would stand up to their hardball, toxic, and antidemocratic tactics … But it won't work. Given a fair hearing, given just the slightest exposure — and the American people will rise to the occasion. They see these tactics for what they are."
Conservatives will never be "given" a fair hearing. But I made sure I was personally on hand in Reno to hear Hillary Clinton's lies, wearing my Breitbart shirt.
Here are the 20 worst lies in her speech, in chronological order.
1. [Trump's rhetoric] is like nothing we've heard before from a nominee for President of the United States. On the contrary, Barack Obama has specialized in divisive rhetoric, both as a candidate ("bitter clingers," "typical white person") and as president. And, of course, Hillary Clinton often uses racist language. In 2008, she pandered to "hard-working … white Americans"; in 2016, she borrows from Black Lives Matter, talking about "white privilege" and "systemic racism."
2. He's taking hate groups mainstream and helping a radical fringe take over one of America's two major political parties. Donald Trump has nothing to do with hate groups, but a "radical fringe" has been in charge of the Democratic Party for a decade — and she was its first victim, in the 2008 primaries. Since then, the party's leaders have embraced the Occupy Wall Street protests and the Black Lives Matter movement — which she still supports despite its incitement against police.
3. In just the past week, under the guise of "outreach" to African Americans, Trump has stood up in front of largely white audiences and described black communities in insulting and ignorant terms: "Poverty. Rejection. Horrible education. No housing. No homes. No ownership. Crime at levels nobody has seen… Right now, you walk down the street, you get shot." Ironically, Clinton said that in front of a "largely white" audience in Reno. But consider what she is saying: if you speak honestly about problems in the black community, you are racist. That is how political correctness has imprisoned blacks for 50 years, ever since (Democrat) Pat Moynihan tried to talk about the crisis in the black family.
4. A man with a long history of racial discrimination. Trump has no history whatsoever of racial discrimination. At the Democratic National Convention last month, former Maryland Gov. Martin O'Malley fled from the camera rather than cite one single example of anything Trump had said about black people, much less done. Clinton cited a handful of lawsuits by the Department of Justice — a department which recently tried suing Louisiana school districts for helping black students.
5. And let's not forget Trump first gained political prominence leading the charge for the so-called "Birthers." The "Birther" movement started among Hillary Clinton's own supporters in 2008, encouraged by a candidate with a deliberate strategy of painting her opponent as not fully American. Her campaign also encouraged suspicions that Obama is a secret Muslim. If Trump is a racist for asking for Obama's birth certificate, then Hillary Clinton is an even bigger racist than he.
Help us spread the ANTIDOTE to corporate propaganda.

Please follow SGT Report on Twitter & help share the message.