by Pam Martens and Russ Martens, Wall Street On Parade: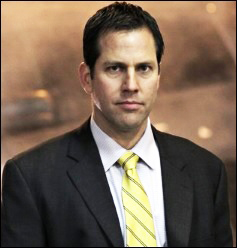 Over the past week Rasmussen polls have captured the epic disgust of voters in the direction America is heading. Only 31 percent of likely voters believe the country is heading in the right direction; 67 percent of voters are angry at the current policies of the federal government; and just 24 percent trust the federal government to do the right thing most or nearly all the time.
The smooth functioning of the U.S. economy is based on citizens having confidence in the country's leaders. Over two-thirds of the U.S. economy stems from consumer spending. When consumers lack confidence, they scale back spending. When businesses lack confidence, they lay off workers or stop hiring. When new home buyers lack confidence, they postpone signing a contract. Last Friday, Bloomberg News reported that the CEO of Signet Jewelers Ltd., Mark Light, was blaming a slowdown in diamond wedding ring sales on "a presidential campaign season that has scared couples into closing their checkbooks."
No Federal agency has done more to drain investor and consumer confidence than the crony Securities and Exchange Commission. Public revulsion of the SEC has now reached such epic proportions that a whistleblower, Eric Ben-Artzi, has turned down his half of a $16.5 million whistleblower award from the SEC for alerting the agency that his former employer, Deutsche Bank, had been inflating the value of its credit derivatives to avoid taking losses. The SEC imposed a $55 million fine on the bank but took no further actions against the employees who were responsible for misspricing the derivatives and hiding the losses.
In an OpEd in the Financial Times earlier this month, Ben-Artzi explained his digust with how the SEC went about its enforcement in the case as follows:
"…top executives retired with multimillion-dollar bonuses based on the misrepresentation of the bank's balance sheet. It is therefore especially disappointing that in 2015, after a lengthy investigation helped by multiple whistleblowers, the SEC imposed a fine on Deutsche's shareholders instead of the managers responsible."
Ben-Artzi saw a link to this lapdog enforcement action and the revolving door between the SEC and Deutsche Bank, writing:
Read More @ WallStOnParade.com
Help us spread the ANTIDOTE to corporate propaganda.

Please follow SGT Report on Twitter & help share the message.