by Wolf Richter, Wolf Street:
I get chills when insiders tell outsiders "not to panic."
Home sales plunged 10.9% across the US in July from a year ago, "the biggest national sales decline since April 2011," nationwide real estate broker Redfin reported, adding chillingly, "but there's a good reason not to panic."
When insiders tell outsiders "not to panic," I get worried. This is what July home sales volume in the US looked like, according to Redfin: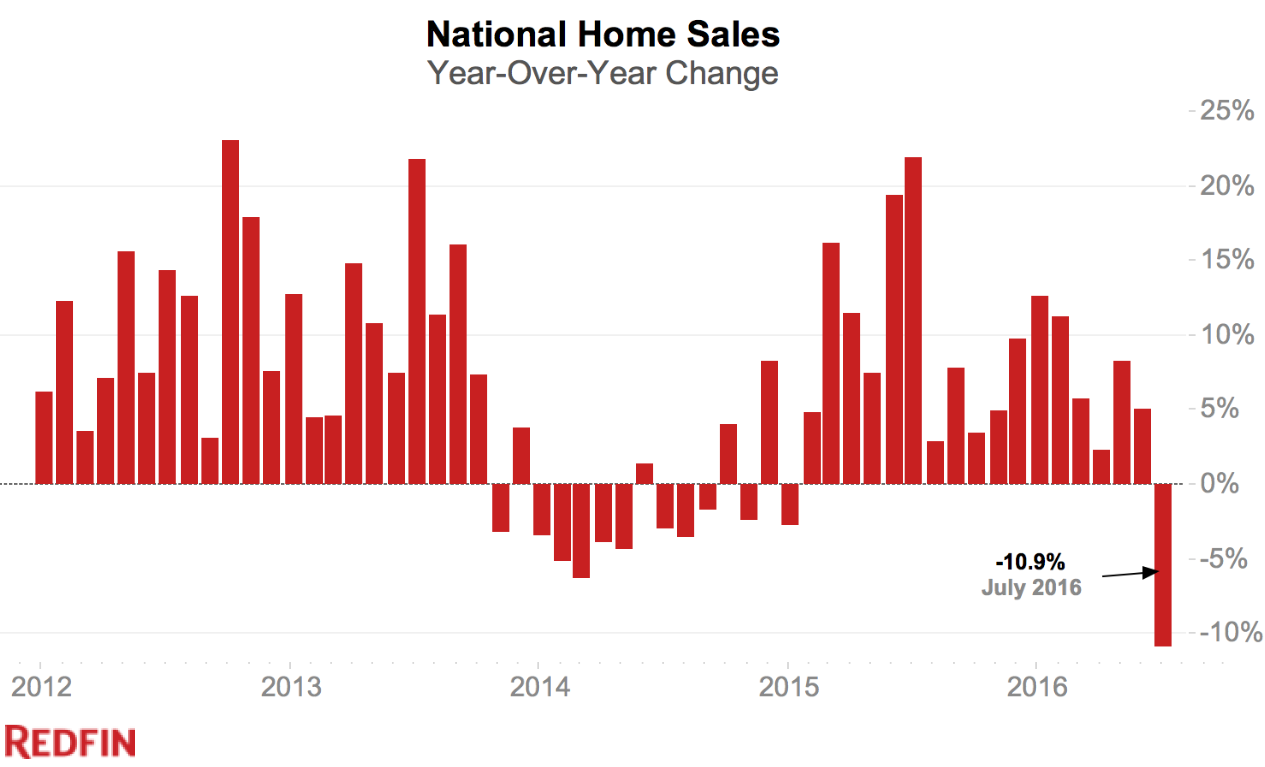 Yet, the median home price across the US rose 5.3% from July a year ago. OK, as long as prices rise, everything is fine.
But when buyers refuse to pay inflated prices and sellers refuse to lower their prices, then volume dries up until something gives. If sellers run out of patience or are forced to sell, prices suddenly take a hit. On a nationwide average, that's not happening yet, though it has started to happen in some cities.
All homes for sale (the "inventory") fell 6.6% from a year ago. More on that in a moment, in the discussion about San Francisco – because there's something important missing here.
Given the plunge in sales, supply as measured in months at the current sales rate edged up 0.1 points to 3.2 months.
But don't panic, the report said. Part of the sales plunge was due to the calendar. The number of selling days can impact monthly sales by a lot. This is true in auto sales and in a number other categories. So Redfin did its own calculus:
Because the month started on a Friday, there were five full weekends plus one national holiday, leaving only 20 days available for home closings.

Redfin data shows that the lion's share of closings happen on Fridays. Homes very rarely close on Saturdays or Sundays. This July contained a below-average number of business days (2.3% lower than average) while July 2015 had the most favorable day-of-week setup for closings of any month on record (5.3% higher than average).
These calendar day differences only explain part of the volume fiasco. Redfin director of analytics Pete Ziemkiewicz:
"All else equal, we'd expect the number of homes sold throughout the U.S. to be 7.5% lower in July 2016 than it was in July 2015, simply because of the way the days laid out on the calendar."
That leaves the remaining 3.4% drop in sales unexplained by the calendar. So Redfin found other reasons that dented sales:
Election anxiety, stock market queasiness, and general economic malaise combined with the lack of available homes on the market to drive sales lower as well.
"Stock market queasiness" is particularly intriguing because stocks in the US kept bounding to all-time highs in July. If anyone should get queasy, it's from being perched on top of these dizzying valuations, even as corporate sales and profits have been declining since 2014.
And there's more to it. The report cites Luis Vasquez, a Redfin broker in Chicago:
"Recently, I've been getting calls from listing agents asking if my clients are still interested in homes they saw several days or weeks ago, letting me know they've dropped the price. It's been about two years since I've gotten those kinds of calls.

"There's a sense of anxiety among both buyers and sellers, which I think can be attributed to the uncertainty around the upcoming election and to the perceived health of the economy. Some buyers are concerned that home prices are topping out and don't want to get caught in a market that's getting ready to tumble back down."
Despite the July sales fiasco, for the first seven months, sales were still up 4.8%. But that's the national average. Some markets have started to crater, with the worst year-to-date plunges in markets whose difficulties we've pointed out for months: Miami year-to-date sales -12.2%, Fort Myers -10.1%, and San Francisco -8.8%. Even in Denver, once one of the hottest housing markets in the country, year-to-date sales are down 1%: Redfin's chart shows the major housing markets with the biggest year-to-date sales declines.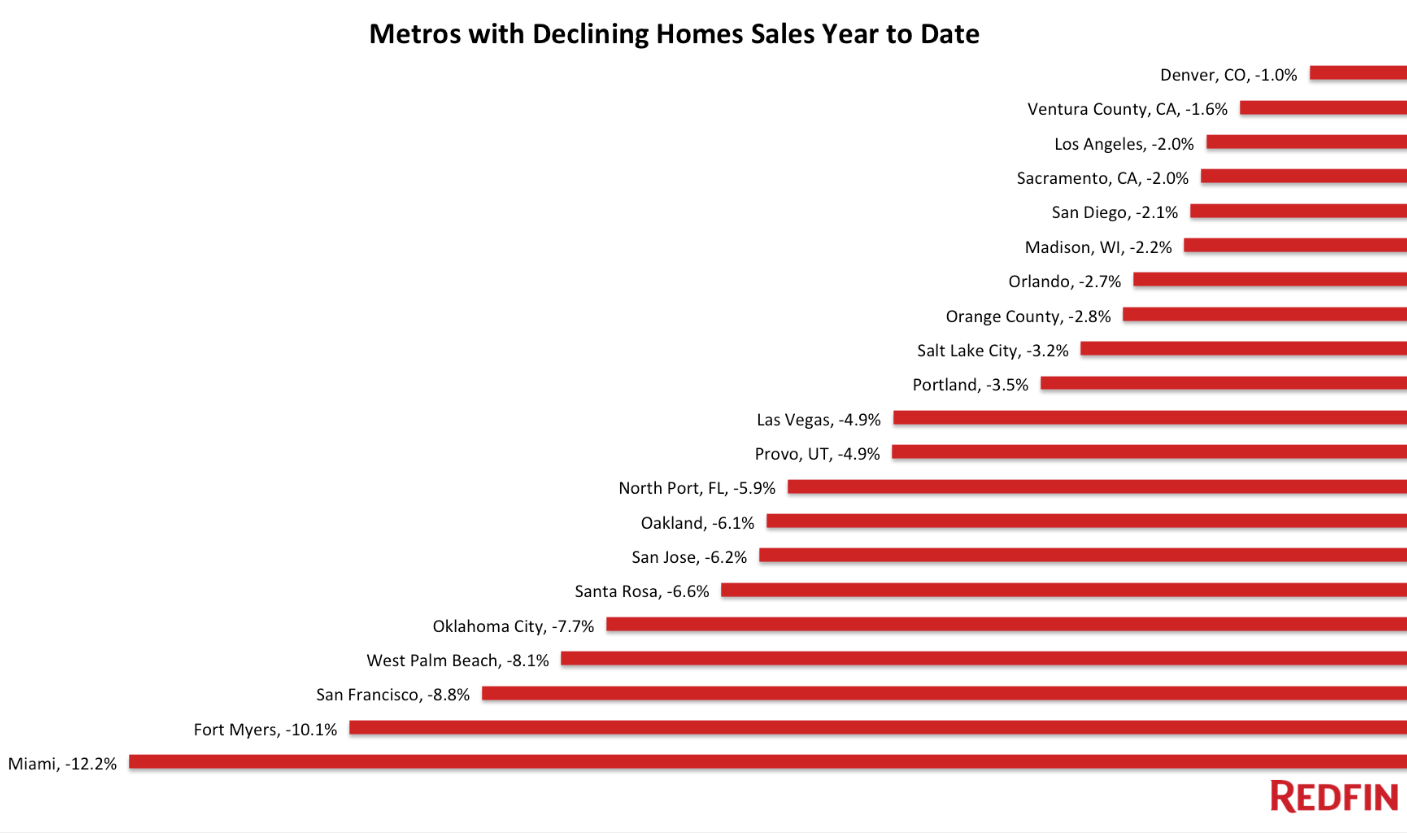 The above chart depicts the first seven months of the year, compared to the same period last year. But in July, compared to July last year, sales in Las Vegas, NV, plummeted 46%, even as prices jumped 7.5%. In Allentown, PA, sales plunged 32%, and in Pittsburgh, PA, 30%. Only a fraction is due to the 3 fewer selling days. The rest is due to market conditions.
Real estate is local – until enough markets hit the skids. Then it's no longer local.
According to Redfin, there were four cities with year-over-year price declines of more than 1% in July: Washington, DC (-3.8%), Hampton Roads, VA (-2.2%), Albany, NY (-2.2%), and St. Louis, MO (-1.4%).
Home price changes are apparently the hardest thing to measure. A number of entities attempt it, each with its own methodologies, tricks, and devices, among them: the Census Bureau, the S&P/Case-Shiller, the National Association of Realtors, CoreLogic, local and state indices based on Multiple Listing Service (MLS) data, or brokers like Redfin that rely on data from their own brokers. They never agree on the median price and the magnitude of the price changes. But eventually, they tend to agree on the direction.
Help us spread the ANTIDOTE to corporate propaganda.

Please follow SGT Report on Twitter & help share the message.