by Steve St. Angelo, SRS Rocco Report: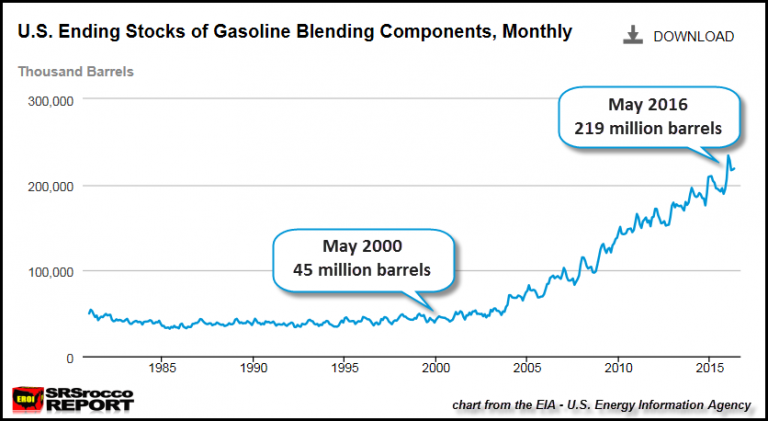 As the precious metals prices surged this year, so did U.S. petroleum inventories. While rising gold and silver prices are a positive sign for the precious metals industry, the surging U.S. petroleum stocks are extremely negative. However, the prices of the metals and energy are currently not trading based on the fundamental values.
For example, the price of oil continues to rally on the back of rising U.S. and world petroleum stocks. This is especially true in the United States. Not only are total U.S. Gasoline stocks higher this May compared to the same period last year, they are up considerably over the past decade: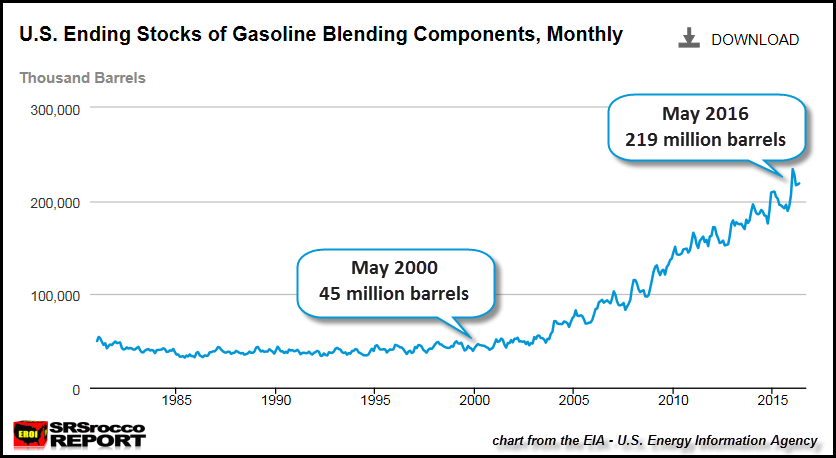 Total U.S. Gasoline (Blending) stocks hit a record high for the month of May, reaching 219 million barrels.  Last year, total U.S. Gasoline stocks were 196 million barrels… 23 million barrels less.  Now, if we go back to May 2000, total U.S. Gasoline stocks were five times less at 45 million barrels.
Of course, some folks would quickly reply that this is due to Americans driving more and consuming more gasoline.  Well, that would be correct if it were true.  Unfortunately, it isn't.  I went to the EIA – U.S. Energy Information Agency and looked at total U.S. Transportation consumption going back until 1950.   The chart below only provides data since 2000.  However, we can see a troubling sign here: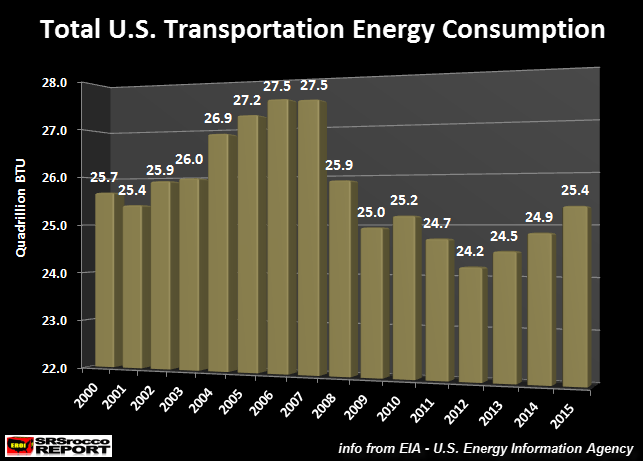 The U.S. Transportation fuel consumption is shown as Quadrillion BTU's.  That's a lot of energy. For example, total U.S. energy consumption in 2015 was 97.5 Quad BTU's.  The Petroleum percentage of U.S. Transportation consumption of 25.4 Quad BTU's represented 26% of total energy consumption by the country.
Regardless, as we can see from the chart above, total U.S. transportation energy consumption was actually higher in 2000 (25.7 Quad BTU's) than it was in 2015 (25.4 Quad BTU's).  Furthermore, we can see that U.S. Transportation energy consumption peaked in 2006 & 2007 at 27.5 Quad BTU's.  Ever since the 2008 U.S. Investment Banking and Housing Market collapse, total transportation consumption has never surpassed its previous peak.
So, the important question needs to be asked… why are U.S. petroleum gasoline stocks continuing to rise to record levels???  Is it because the U.S. Energy Industry wants to make sure that Americans have plenty of extra fuel in storage if there is some BLACK SWAN EVENT?  I hardly doubt it.  These companies survive on making profits, not being altruistic.
Correct… it's due to falling demand.
Again, total U.S. Gasoline stocks are 23 million barrels higher in May than they were during the same month last year.  Moreover, the situation is even worse in the East Coast (PADD 1).  Let's look at the disaster taking place in the East Coast Gasoline inventories: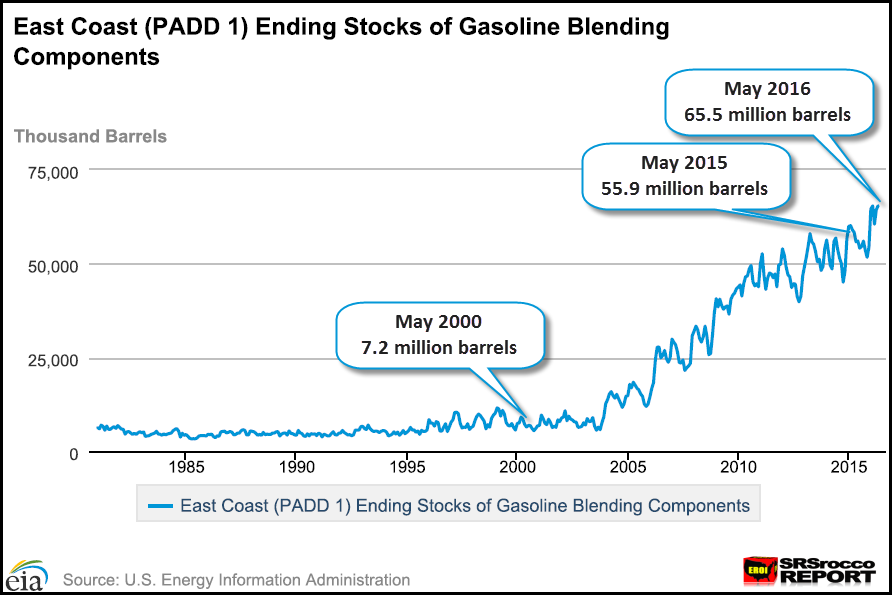 East Coast Gasoline stocks hit a new record for the month of May by surpassing 65 million barrels.  This is up nearly 10 million barrels from the same month last year.  While total U.S. Gasoline stocks are up 12% from last year, East Coast Gasoline stocks are up a whopping 17%.
Read More @ SRSroccoreport.com
Help us spread the ANTIDOTE to corporate propaganda.

Please follow SGT Report on Twitter & help share the message.