by Charles Hugh Smith, Of Two Minds: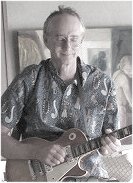 We are already experiencing the powerlessness of POTUS.
We all know the POTUS (President of the United States) has the power as Commander-in-Chief to engage the nation in senseless, costly, needless wars. We also know the POTUS has a media-saturated bully pulpit to set an agenda and fashion a cultural tone for the nation.
But beyond the power to wage war and dominate the media spotlight, does the President have the power to solve the structural problems that are eroding the nation's economy and social contract?
This chart summarizes one such problem: wage earners are receiving a diminishing share of the nation's output (GDP):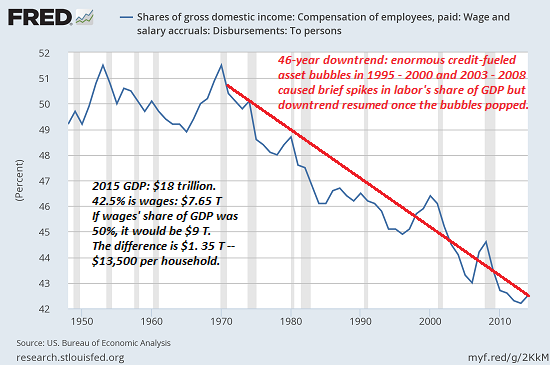 A second related problem is the national income that is flowing to wage earners is increasingly flowing to the top 5%: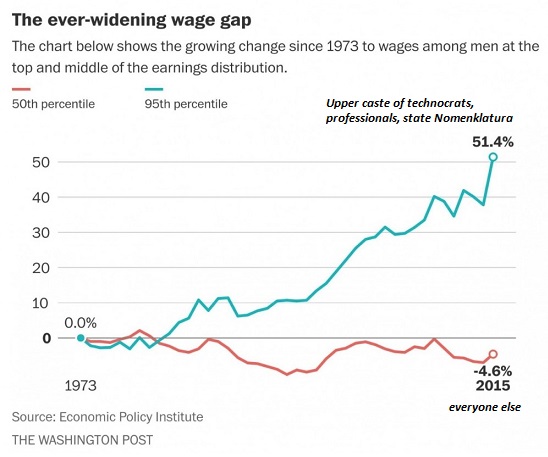 If the president can't solve the nation's systemic problems, then he/she no longer matters. The President, outside of declaring war, is nothing but a source of "news" chum for the media feeding frenzy aimed at grabbing eyeballs to maximize advertising revenues for the media's corporate owners.
Analyst Gail Tverberg explained why the political machinery of POTUS cannot change the downward trends in household earnings in a series of insightful essays, most recently Overly Simple Energy-Economy Models Give Misleading Answers.
Tverberg considers the costs of finance/debt and complex hierarchies in the matrix of energy production and consumption, and references the work of Joseph Tainter on the systemic impact of the rising cost of complexity.
In a similar vein, I have often mentioned The Upside of Down: Catastrophe, Creativity, and the Renewal of Civilization by Thomas Homer-Dixon.
In summary: successful civilizations generate sufficient surplus to invest in complex hierarchical communication-command-control mechanisms which boost productivity and generate additional surplus. The cost of these complex systems continually rises while the increases in production eventually plateau and decline in an S-Curve: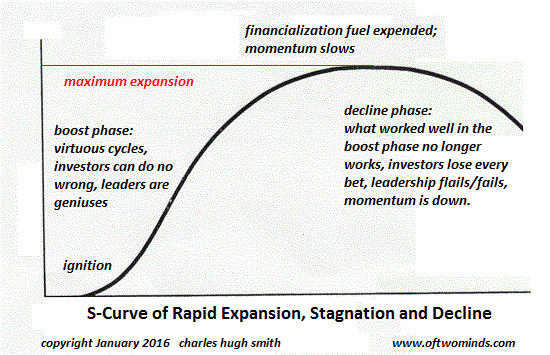 Help us spread the ANTIDOTE to corporate propaganda.

Please follow SGT Report on Twitter & help share the message.