by Wolf Richter, Wolf Street: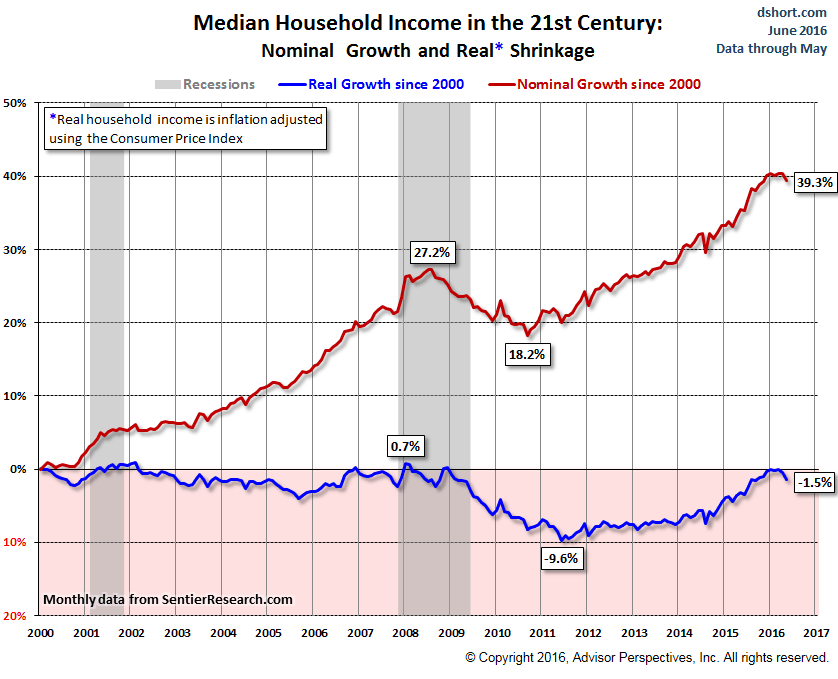 Unlike stocks, a housing bubble can only go so far.
After a wait of 417 calendar days, or 286 trading days, the S&P 500 finally set a new record high on light volume. Bonds have soared, and yields have dropped to ludicrous lows. The 10-year Treasury yield hit an all-time low on Friday of 1.366%. Globally, nearly $13 trillion, or 29% of total bonds outstanding, are trading with a negative yield. So those asset bubbles remain intact.
Commercial real estate has been soaring since March 2009, and that bubble remains intact, though some markets are already causing fear and trembling due to office-space gluts that are now coinciding with withering demand, such as in Houston and in San Francisco. Home prices too have been soaring for years, though in some major cities, the tide has turned.
Rents have been rising in parallel. It's in real estate where an asset bubble becomes a real-life issue for people who don't even own any assets – they're paying the price for the bubble.
Other asset bubbles abound. Central banks have accomplished a lot. Blowing so many bubbles to such an extent for so long has been an astounding feat. In total, central banks created $24.6 trillion, according to BofA Merrill Lynch estimates. When they bought financial assets with that new moolah, they put $24.6 trillion of cash into the hands of investors and speculators concentrated in the major financial centers of the world.
Yet the global economy remains languid. Demand is sluggish. Job growth in the US can barely keep up with population growth. And a good part of American consumers – those on fixed incomes and savers – have seen their incomes transferred to others. So they've gutted their consumption.
But economic reality doesn't matter to stocks and bonds. No one has to live in them. Economic reality matters to housing, however: the market needs to have enough people who can afford to pay the mortgage or rent. So the housing bubble is subject to another force: the reality of incomes. And those incomes have been a dreary sight for the past 16 years.
The median annual household income in May, not adjusted for inflation, fell 0.7% to $56,853, the second month in a row of declines, but was still up 2.9% from a year ago, according to Sentier Research, which uses Census data as base for its monthly updates. Adjusted for inflation, "real income" fell 0.9% for the month and rose 1.8% year over year, but remains 1.5% below where it had been in January 2000.
This chart by Doug Short at Advisor Perspectives shows the changes in nominal (red) vs. real (blue) median household incomes from January 2000. Note the sudden downturn:
Help us spread the ANTIDOTE to corporate propaganda.

Please follow SGT Report on Twitter & help share the message.