from ZeroHedge:
When we described the aftermath of Turkey's failed, and painfully disorganized military coup attempt, we asked rhetorically, "Who wins?" To which we answered: "Why Erdogan of course. As he said during a press conference upon his arrival back in Istanbul in the early Saturday morning hours, the coup is an opportunity to "to purge the military." Erdogan also vowed to exact "the highest price" from the perpetrators. Or, to summarize, the military said Erdogan's power consolidation justifies the attempted coup; Erdogan said the coup justifies further consolidation of power."
Overnight, when analyzing the market's take of the coup, Renaissance Capital's Michael Harris said that "for markets to respond positively, we think Erdogan must go the reconciliation route, pledging not to hold elections for the coming year and committing to a consensus approach to constitutional change. More likely, though, Erdogan will seek to leverage this into a constitutional super-majority via a snap election."
Their conclusion: "A military coup has failed, but if Erdogan responds to this historic moment the wrong way, a democratic coup could be the result."
Not surprisingly, as of this morning, Erdogan is indeed responding to this historic moment the "wrong way." But before we get to that point, there are questions whether this coup was even that.
As a NYT analyst on the ground pointed out, confirming what we said last night, the planning, organization and implementation of the attempted military overthrow were suspect at best and outright laughable at worst:
We don't have to remind readers that when military coups take place in the middle-east, they are i) ruthless, ii) extremely well-organized and planned, and iii) succeed on virtually every occasion. But not this one. The question why is what the media (or at least its fringes) will be pondering over the next few days and weeks.
What there is no question about, however, is Erdogan's response, which as he warned last night, would begin with a quick crackdown against the army. As of this moment, hundreds of soldiers have already been arrested.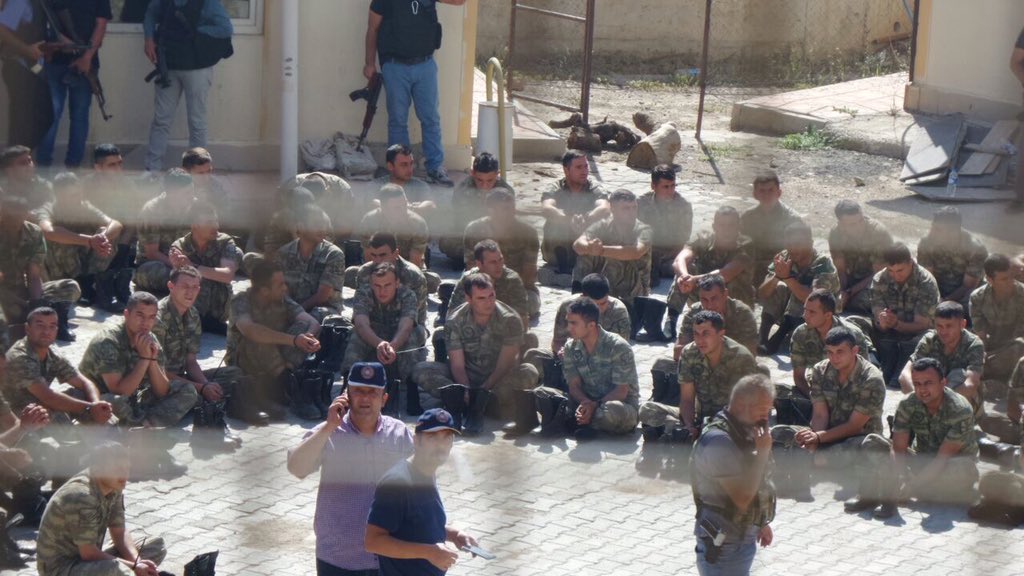 As AP adds, local NTV television has shown footage of a Turkish colonel and other soldiers being taken into custody at military headquarters. The video shows them being hand-searched by special forces police, their hands behind their heads. Some are later seen kneeling on the ground, their hands still held behind their heads.
According to Hurriyet newspaper's online edition, some of the privates who were detained told interrogators they were not aware that they were part of a coup attempt. They had been told by commanders they were taking part in military maneuvers. Some said they understood that it was a coup attempt when they saw civilians climb on tanks.
Help us spread the ANTIDOTE to corporate propaganda.

Please follow SGT Report on Twitter & help share the message.