by Angela Johnson, Wolf Street:
Here's what's happening in my neighborhood.
June was another banner month – in a long series of banners months – for housing in Vancouver, with the most sales for any June on record. The MLS Home Price Index benchmark price for all residential properties in the Metro Vancouver market soared 32.1% year-over-year to C$917,800, the Real Estate Board of Greater Vancouver reported today. The benchmark price for apartments jumped 25.3% to C$501,100. The benchmark price for detached houses skyrocketed 38.7% to C$1.56 million.
Another day, another real estate-related headline. Whether chronicling the outcry of frustration and angst felt by locals left out of the Vancouver house-trading frenzy or the shenanigans of unscrupulous realtors, the housing issue is constantly at the forefront.
From shadow-flipping, unoccupied homes acting as bolt holes or safes for ill gotten cash, to unpopular land-assembly deals, we hear opinions, anecdotes, and reports on every side. If you can forget about housing, or if you're lucky or smart enough to join the ranks of euphoric profit-takers, Vancouver is a very enjoyable place. But you're not likely to forget about housing without blinders on or without a sustained effort.
Every other day, our mailbox holds a flyer or two, like these. Note the hundreds, not tens, of thousands of dollars over asking price. Also "Sold in x days" where x is less than 7: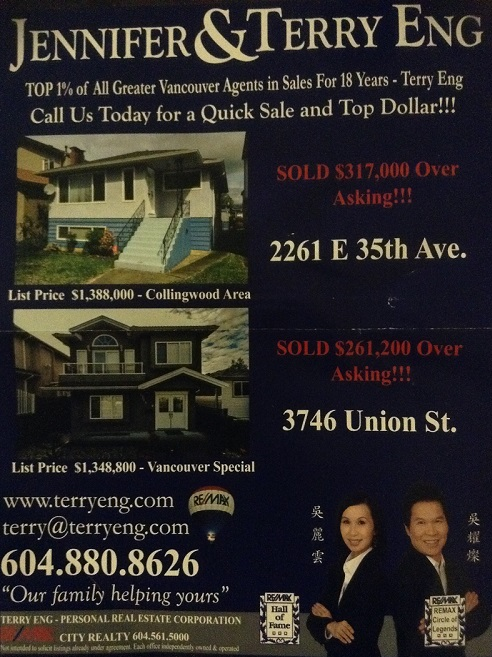 Priced out renters may find the tag line in the ad above ironic.
More irony in the ad below. This company has only existed for 6 months. What does it mean when they say their active listings have a high return? Is something lost in translation. Or is everyone expected to flip these properties? Also note at the top the line, "Immigrant Service by licensed elite teams," addressed to Chinese buyers: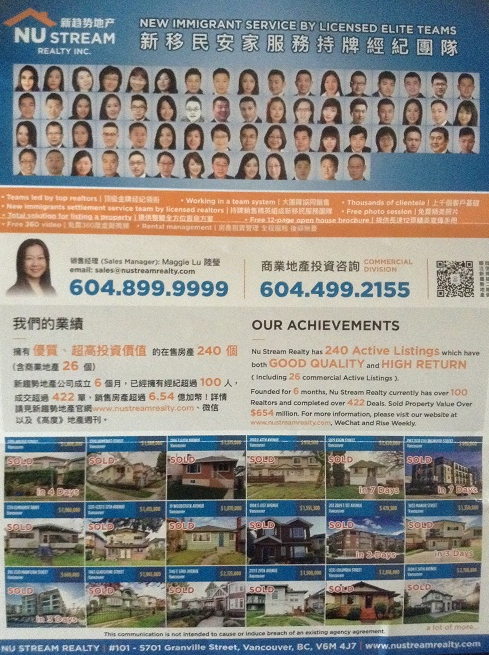 And here's another one from my mailbox…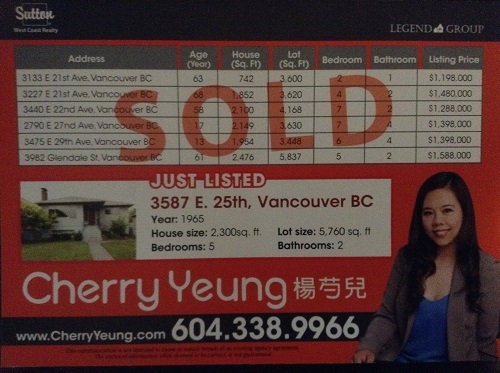 In the current real estate landscape, offering without conditions is the modus operandi. Bidding wars are the norm. Home inspections take time and that's a luxury buyers don't have. Until curtailed by the province just this week, realtors enjoyed dual agency, acting for both buyer and seller in this game. Shadow flipping was also addressed. And Mayor Gregor Robertson "will aggressively advocate" for measures he believes will "help create a level playing field in the Vancouver housing market."
Help us spread the ANTIDOTE to corporate propaganda.

Please follow SGT Report on Twitter & help share the message.