by Charles Hugh Smith, Of Two Minds: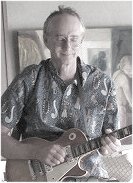 These trends cannot be reversed with yet another rate cut or another "whatever it takes" announcement.
In the conventional investment perspective, risk-on assets (i.e. investments with higher risks and higher potential returns) such as stocks are on a see-saw with risk-off assets (investments with lower returns and lower risk, such as Treasury bonds). When risk appetites are high, institutional managers and speculators move money into stocks and high-yield junk bonds, and move money out of safe-haven assets such as gold and U.S. Treasuries.
But recently, markets are no longer following this convention. Safe haven assets such as precious metals and Treasuries are soaring at the same time that stock markets bounced strongly off the post-Brexit lows.
Risk-on assets (stocks) rising at the same time as safe-haven assets is akin to dogs marrying cats and living happily ever after.
What the heck is going on?
Why are markets acting so schizophrenic? What's changed?
Before we cover the dynamics that are in play, let's review the market gyrations so far in 2016.
The Market Gyrations Of 2016
Risk-off / safe havens
Gold: from $1,060/oz in January to $1,360/oz (as of July 5)
Silver: from $13.90/oz to $20/oz
U.S. dollar: from 99 in January to 92 in May to a current level around 96. (The DXY dollar index was 80 in mid-2014 and topped 100 in March 2015.)
U.S. 30-year Treasury bond yield: from 3.00% in January to 2.14% in early July.
TLT (20 year bond ETF): from 120 in early January to 142 in early July.
Risk-on
S&P 500: from around 2,035 in early January to 1,820 in February, topping 2,100 in April, then a decline below 2,000 in June and back to 2,100 by July 1 – and a new all-time high just today. (SPX was above 2,100 in mid-2015, then it plummeted to 1,825 before bouncing back to 2,100 in late 2015.)
JNK (high-yield bond ETF): from 36.5 in May 2015 to 32.5 in early January to 30.5 in February to 35.5 on July 1.
In broad brush, the tide that raised all risk-on boats for the past seven years is now ebbing.
The momentum that drove the stock market higher since early 2009 has weakened. Stocks have repeatedly plummeted sharply over the past year, only to be saved by central bank jawboning of the now-shopworn "whatever it takes" variety, or by coordinated central bank purchases of stocks, futures, ETFs, etc.
The momentum has clearly shifted to the risk-off safe-haven assets such as precious metals and sovereign bonds. This flood-tide of cash into bonds has helped push yields into negative territory, an unprecedented development: owners of capital are so concerned about getting their money back that they are accepting negative returns, i.e. guaranteed losses, to park their cash.
In effect, capital is focusing less on earning a return on cash and more on making sure the cash is returned. Paying 1% for the privilege of parking capital is making cash and gold look attractive, as the cost of holding cash and precious metals is relatively modest, and the upside is potentially significant.
Indeed, the flood-tide of money into precious metals is attracting speculative hot money: Chinese Day Traders Are Behind Silver Frenzy Moving Prices (Bloomberg)
What has caused this sea-change in risk appetite and sentiment? A number of fundamental dynamics are now in play globally.
Help us spread the ANTIDOTE to corporate propaganda.

Please follow SGT Report on Twitter & help share the message.