from Money Metals: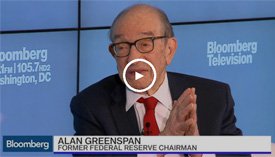 Under certain circumstances, seemingly decent human beings are capable of horrific things.
So it is with Former Federal Reserve Chairman Alan Greenspan, who parlayed his sound money bona fides into the top post at America's private banking cartel and current issuer of our un-backed currency. In betrayal of his own stated free-market principles, Greenspan spent his tenure at the Fed pumping up financial markets with easy money and enabling runaway government spending commitments.
Today, however, the "maestro" of central banking is playing a very different tune. He's warning against an inevitable crisis resulting from the very policies he helped implement.
Perhaps it's a late-life crisis of conscience. Perhaps he feels guilty. Perhaps at age 90, he just feels free to speak his mind in a way that most current and former Fed officials don't. In any event, Alan Greenspan is very concerned about the legacy he will leave and now seems genuinely worried about the country's financial future.
Greenspan: "We Are in the Very Early Days of a Crisis Which Has Got a Way to Go"
Following the Brexit shock and the market volatility that followed in its aftermath, Greenspan scolded British officials for the "mistake" of allowing the vote to leave the European Union to take place. He predicted more dominos would fall. In an interview with Bloomberg last week he said, "We are in very early days of a crisis which has got a way to go."
It's not surprising to hear Greenspan echo other pro-globalist voices in bemoaning the potential disintegration of the European Union. Central bankers, commercial bankers, governments, and international corporations all have vested interests in pushing for what they call "integration."
Alan Greenspan on Bloomberg
Outgoing United Kingdom Independence Party (UKIP) leader Nigel Farage declared the successful Brexit referendum "a victory for ordinary people" against "multinationals," "big merchant banks," and "big politics."
As global stock markets protested, the gold market surged to new 2016 highs post-Brexit.
The success of Brexit, which defied the predictions of pollsters, may bode well for Donald Trump. His unconventional campaign for the presidency hits on similar anti-globalist, anti-establishment themes.
Meanwhile in Congress, renegade Republican Rep. Thomas Massie is pushing what he calls an "Amexit" from the United Nations. Massie's American Sovereignty Restoration Act (HR 1205) would allow the U.S. to leave the United Nations and cease sending $8 billion per year in "contributions" to the world body.
Anti-establishment politics irks elites in central banking and elsewhere who institutionally prefer the status quo. But what really worries former Fed chair Alan Greenspan isn't the upcoming election or any bill in Congress. It's the $19+ trillion national debt and the trillions more in future spending commitments that are already baked into the cake.
Greenspan: Entitlements Time Bomb "Is What the Election Should Be All About"
The problem, as Greenspan sees it, is the structure of Social Security, Medicare, and other "mandatory" spending programs. Through them, ever growing numbers of people "are entitled to certain expenditures out of the budget without any reference to how it's going to be funded. Where the productivity levels are now, we are lucky to get something even close to two percent annual growth rate. That annual growth rate of two percent is not adequate to finance the existing needs."
Greenspan's prognosis: "I don't know how it's going to resolve, but there's going to be a crisis."
Help us spread the ANTIDOTE to corporate propaganda.

Please follow SGT Report on Twitter & help share the message.