by David Stockman, David Stockman's Contra Corner: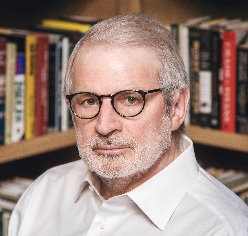 The inexorable effect of contemporary central banking is serial financial booms and busts. With that comes increasing levels of systemic financial instability and a growing dissipation of real economic resources in misallocations and malinvestment. At length, the world becomes poorer.
Why? Because gains in real output and wealth depend upon efficient pricing of capital and savings, but the modus operandi of today's central banking is to deliberately distort and relentlessly falsify financial prices.
After all, the essence of ZIRP and NIRP is to drive interest rates below their natural market clearing levels so as to induce more borrowing and spending by business and consumers.
It's also the inherent result of massive QE bond-buying where central banks finance their purchases with credits conjured from thin air. The central banks' big fat thumb on the bond market's supply/demand scale results in far lower yields than real savers would accept in an honest free market.
The same is true of the hoary doctrine of "wealth effects" stimulus. After being initiated by Alan Greenspan 15 years ago, it has been embraced ever more eagerly by his successors at the Fed and elsewhere ever since.
Here, the monetary transmission channel is through the top 1% that own 40% of the financial assets and the top 10% that own upwards of 85%. To wit, stock prices are intentionally driven to artificially high levels by means of "financial easing". The latter is a euphemism for cheap or even free finance for carry trade gamblers and subsidized hedging insurance for fast money speculators.
As the stock averages rise and their Fed-subsidized portfolios attain ever higher "marks", the wealth effects operators supposedly feel, well, wealthier. They are thereby motivated to spend and investment more than otherwise, and to actually double-down on these paper wealth gains by using them as collateral to obtain even more cheap funding for even more speculations.
The trouble is, financial prices cannot be falsified indefinitely. At length, they become the subject of a pure confidence game and the risk of shocks and black swans that even the central banks are unable to off-set. Then the day of reckoning arrives in traumatic and violent aspect.
Exactly that kind of Lehman-scale crisis is now descending on global markets. In two nearby postings today we highlight bookend events which document why the end result of today's massive central bank intrusion in financial markets is, everywhere and always, crisis.
Today central banks and their affiliates own about $21 trillion of government bonds and related securities. Most of that has been purchased in the last two decades and the preponderant share since the 2008 crisis.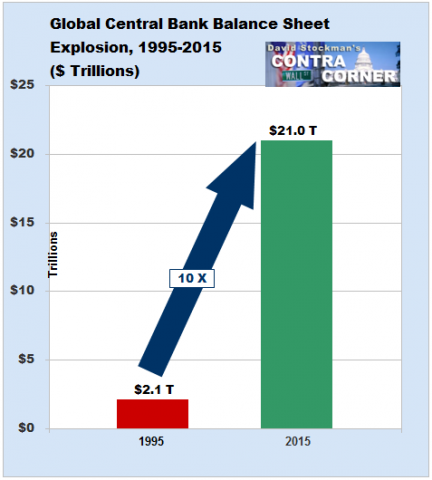 he effect of that giant central bank thumb on the scales at the very interior of the fixed income markets—–that is, the benchmark government securities sector—–has been to radically inflate sovereign bond prices. In turn, that drastic mispricing has spread to the balance of the fixed income spectrum via spread pricing off the benchmarks, and from there into markets for converts, equities and everything else.
Above all else, the QE driven falsification of bond prices means that central banks have supplanted real money savers as the marginal source of demand in the government bond markets. But by their very ideology and function, central bankers are rigidly and even fiercely price inelastic.
Read More @ DavidStockmansContraCorner.com
Help us spread the ANTIDOTE to corporate propaganda.

Please follow SGT Report on Twitter & help share the message.