by Pam Martens and Russ Martens, Wall Street On Parade: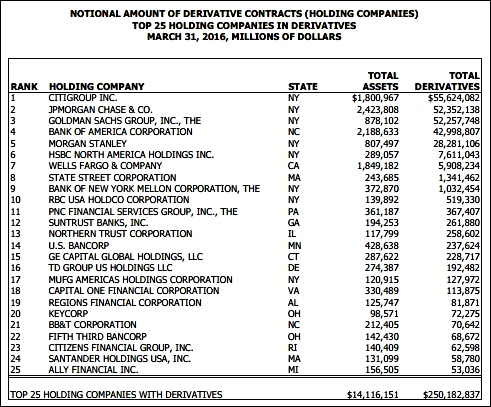 According to the Federal Deposit Insurance Corporation (FDIC), as of March 31, 2016, there were 6,122 FDIC insured financial institutions in the United States. Of those 6,122 commercial banks and savings associations, 4,701 did not hold any derivatives. To put that another way, 77 percent of all U.S. banks found zero reason to engage in high-risk derivative trading.
Citigroup, however, the bank that spectacularly blew itself up with toxic derivatives and subprime debt in 2008, became a 99-cent stock during the crisis, and received the largest taxpayer bailout in U.S. financial history despite being insolvent at the time, today holds more derivatives than 4,701 other banks combined which are backstopped by the taxpayer.
The total notional amount of derivatives sitting at Citigroup's bank holding company is $55.6 trillion according to the March 31, 2016 report from the Office of the Comptroller of the Currency (OCC), one of the regulators of national banks. (See chart above.) Out of Citigroup's total notional (face amount) exposure of $55.6 trillion in derivatives, $52 trillion of that is sitting at its insured depository institution, Citibank, which is still decidedly too-big-to-fail and would require a taxpayer bailout again in a collapse.
If you add in four other mega Wall Street banks (JPMorgan Chase, Goldman Sachs, Bank of America and Morgan Stanley) to Citigroup's haul in derivatives, there is a staggering $231.4 trillion in derivatives or 93 percent of all derivatives in the entire FDIC banking universe of 6,122 banks and savings associations.
Didn't the Obama administration tell the public that allowing these Frankenbanks to continue to gamble in derivatives while putting the U.S. economy and taxpayers at risk was going to end under his Dodd-Frank financial reform legislation passed in 2010? How could there have been meaningful reform of Wall Street if Citigroup and these other four banks are still holding a loaded gun to the taxpayers' head?
Under the "Push-Out Rule" (Section 716 of the Dodd-Frank Wall Street Reform and Consumer Protection Act), insured banks were not going to be allowed to hold these derivatives when the rule was fully implemented in July 2015. The mega banks would have to "push-out" the derivatives to their uninsured affiliates so that the taxpayer wasn't on the hook for future losses or bank implosions. But in December 2014, Citigroup was able to slip language into the must-pass spending bill that effectively repealed this critical Dodd-Frank provision and President Obama signed the bill into law.
Read More @ WallStOnParade.com
Help us spread the ANTIDOTE to corporate propaganda.

Please follow SGT Report on Twitter & help share the message.