by Pam Martens and Russ Martens, Wall Street On Parade: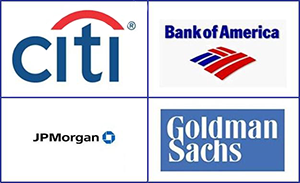 On July 14, when America's biggest bank by assets reported its second quarter earnings, this headline ran at the New York Times: "JPMorgan Chase Has Strong Quarter as Earnings Top Estimates."
CNBC, a unit of NBCUniversal, used the same criteria in its headlines to report the earnings of Citigroup, Bank of America and Morgan Stanley — putting a positive spin in the headline because the earnings had topped what analysts were expecting – rather than the far more meaningful, and traditional, measure of whether earnings had beaten the same quarter a year earlier. CNBC's headlines read:
Citigroup earnings handily top Wall Street expectations: CNBC-July 15, 2016
Bank of America earnings top expectations: CNBC-July 18, 2016
Morgan Stanley solidly beats earnings expectations: CNBC-July 20, 2016
This is hubris of the highest order.
Publicly traded companies simply guide research analysts toward lowered expectations on their upcoming quarterly earnings so that the companies can surprise on the upside and get these kinds of misleading headlines in the all-to-willing New York media – which has a vested interest in making everything appear rosy in the Big Apple. (New York media is dependent on fat Wall Street profits to boost the price of their own publicly traded shares since ad revenue in New York is linked to the health of Wall Street.)
One would never know by these headlines that big bank earnings were actually down year over year – and in some cases, down dramatically. JPMorgan Chase earned $6.2 billion in the second quarter of 2016 versus $6.29 billion in the second quarter of 2015.
The news was far worse at Citigroup, despite the rosy headline at CNBC. Citigroup's second quarter profit fell 17.5 percent year over year, to $4 billion from $4.85 billion in the second quarter of 2015. Its revenues were the lowest in 14 years according to S&P Capital IQ.
At Bank of America, profit fell to $4.23 billion from $5.3 billion in the second quarter of 2015, a sharp decline of 20 percent.
Read More @ WallStOnParade.com
Help us spread the ANTIDOTE to corporate propaganda.

Please follow SGT Report on Twitter & help share the message.