by Michael Snyder, End Of The American Dream: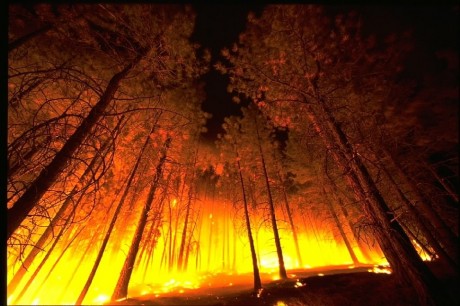 It is starting to look more than just a little bit "apocalyptic" out there. If you follow my work closely, you already know that weather patterns in the United States have been going absolutely crazy and that last year was the worst year for wildfires in all of U.S. history. Well, this week things have gotten even worse. A "heat dome" has brought triple digit temperatures to much of the country, and an "unprecedented" wildfire is ripping through the hills north of Los Angeles "like a freight train". The so-called Sand Fire started on Friday, and since that time it has been burning 10,000 acres a day. An acre is approximately the size of a football field, so that means this fire has been burning the equivalent of 10,000 football fields every single day, and it is only "10 percent contained" at this point.
According to the latest count more than 51 square miles have been burned by this voracious fire, and on Sunday smoke from the fire could be seen 270 miles away in Las Vegas. Nearly 3,000 firefighters are currently battling the blaze, but the fire still seems to have the upper hand.
At least one "charred corpse" has been found so far, and officials are hoping that other nearby residents are heeding their calls to evacuate. Fires of this nature are extremely serious, and they can move with astonishing speed when the conditions are right.
This five year drought is the worst multi-year drought in the recorded history of the state of California, and such dry conditions are ideal for wildfires. Normally we don't see "explosive" wildfires of this nature until later in the year, and that is one reason why authorities are describing what we have seen up to this point as "almost unprecedented". The following comes from NBC Los Angeles…
"This fire, what we've seen in 72 hours, is almost unprecedented," said Los Angeles County Fire Department Battalion Chief Dennis Cross. "We'd have to go back a long way to compare a fire to this. And, we're not through with this thing yet."
Some of the terms that are being used in the mainstream media to describe this fire are "extreme", "ferocious" and "like a freight train". Without a doubt, nobody should be underestimating the seriousness of what is taking place in northern Los Angeles County right now…
Flames raced down a steep hillside "like a freight train," leaving smoldering remains of homes and forcing thousands to flee the wildfire churning through tinder-dry canyons in Southern California, authorities said Sunday.

The fire that has destroyed at least 18 homes in northern Los Angeles County gained ferocious new power two days after it broke out, sending so much smoke in the air that planes making drops on it had to be grounded for part of the afternoon.

"For this time of year, it's the most extreme fire behavior I've seen in my 32-year career," County fire Chief Daryl Osby said.
Nearby residents are posting plenty of photos from this fire on Facebook and Twitter, and some of these photos look quite apocalyptic. Even with all of our advanced technology, this kind of thing can still happen in the United States of America today, and it shows us that we are not quite as "all-powerful" as we would like to think.
Read More @ EndOfTheAmericanDream.com
Help us spread the ANTIDOTE to corporate propaganda.

Please follow SGT Report on Twitter & help share the message.