by Steve St. Angelo, SRSRocco Report: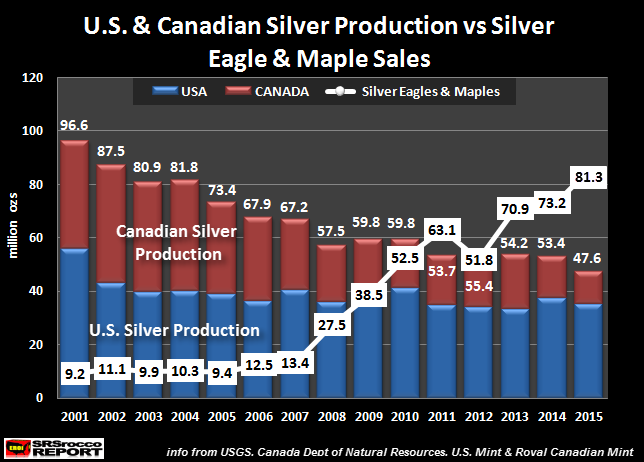 Americans and Canadians will likely face silver shortages in the future as investment demand continues to surge higher. This will come at time as the silver price skyrockets, thus making it even harder for investors to acquire physical metal.
The U.S. and Royal Canadian Mints produce most of the Official Silver coins in the world. In 2015, the combined total of Silver Eagles and Maples sales equaled 81.3 million ounces (Moz). This is a stunning amount as their total sales in 2001 were only 9.2 Moz: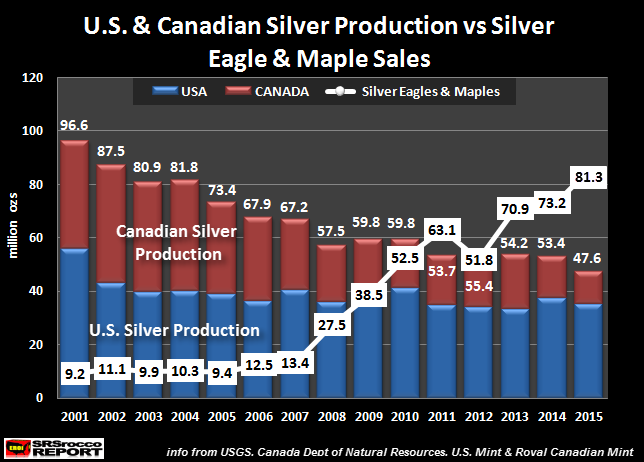 As the chart above shows, U.S. and Canada had to import nearly 34 Moz of silver in 2015 just to supply the surging Silver Eagle & Maple demand of 81.3 Moz, as their combined silver production of 47.6 Moz fell significantly short. This was a huge change since 2001, as the U.S. and Canada had 87.4 Moz of their domestic silver mine supply remaining after 9.2 Moz went to their U.S. Eagle and Maple sales.
Even though the U.S. and Canada had to import 34 Moz in 2015 just to supply their Official Silver coin program, this is only part of the total net physical silver investment deficit. If we include total U.S. and Canadian Silver Bar & Coin demand, the silver investment deficit is much larger.
Surging U.S. & Canadian Silver Bar & Coin Demand Cause The Investment Deficit To Balloon Higher
If we add the revised Silver Bar demand published in the 2016 World Silver Survey, now including "Private silver bars & rounds", this would be the result: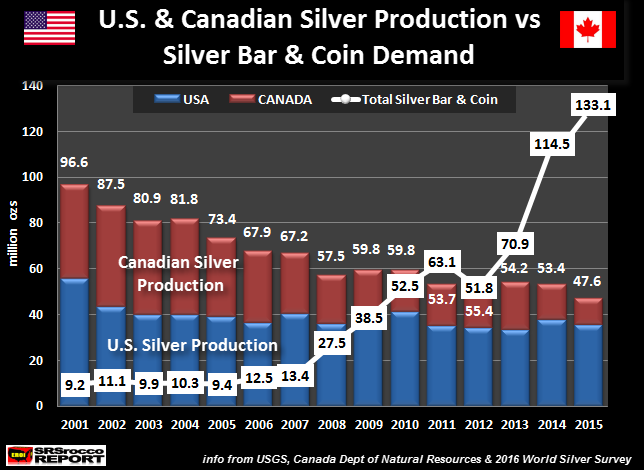 I only revised the data for 2014 and 2015 which includes Silver Bar demand. I could not revise the data for 2001-2013 as there isn't enough detailed information in the World Silver Surveys to provide accurate figures. However, we can now see just how much more physical silver investment demand there is in the U.S. and Canada when we include Silver Bar demand.
If I take these figures, now including private silver bars and rounds, we can see the huge impact on domestic mine supply since 2001: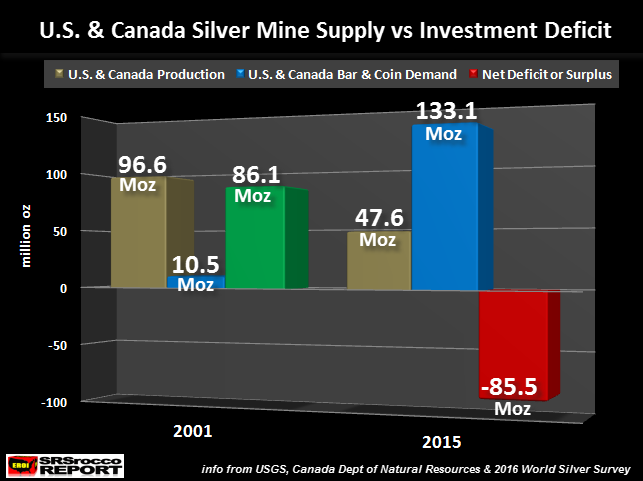 In 2001, the U.S. and Canada enjoyed a 86.1 Moz domestic silver mine supply surplus when total Silver Bar & Coin demand was deducted (Silver Eagle & Maple sales were 9.2 Moz and I estimated Silver Bar was 1.3 Moz for a total of 10.5 Moz). However, the situation has totally reversed as U.S. and Canadian Silver Bar & Coin demand hit a record 133.1 Moz in 2015.

NOTE: The World Silver Surveys do not provide actual Official Silver coin demand figures for the U.S. or Canada (or for any other country). What they publish are total sales of each country's Official Silver coin sales. Many Silver Eagles & Maples are purchased by foreigners. However, I believe Americans and Canadians purchase higher quantities of foreign Official Silver coins (Australian Kangaroos and Austrian Philharmonics) to offset Silver Eagles and Maples shipped abroad.

That 133.1 Moz Silver Bar & Coin demand figure for the U.S. and Canada includes 81.3 Moz of Silver Eagles and Maples as well as 51.8 Moz of reported U.S. Silver Bar demand (which now includes private bars and rounds). GFMS did not include any data for Canadian Silver Bar demand. Which means, the 133.1 Moz figure for the U.S. and Canada may be conservative.
Read More @ SRSRoccoReport.com
Help us spread the ANTIDOTE to corporate propaganda.

Please follow SGT Report on Twitter & help share the message.