by Pam Martens and Russ Martens, Wall Street On Parade: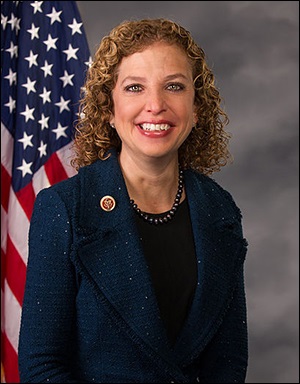 First it was Hillary Clinton handling Top Secret national security matters in emails with the caution of a drunken sailor. Now it's emails leaked by Wikileaks showing that key officials at the Democratic National Committee (DNC) attempted to derail the Democratic campaign of Bernie Sanders in direct violation of the DNC's own Charter. Loose email lips are sinking a lot of ships in the Democratic corridors of power. And a lot more emails and depositions may be coming as a class action lawsuit filed in Federal Court gets underway.
Article 5, Section 4 of the DNC Charter mandates the following:
"The Chairperson shall be responsible for ensuring that the national officers and staff of the Democratic National Committee maintain impartiality and evenhandedness during the Democratic Party Presidential nominating process."
Instead, according to more than 20,000 DNC emails exposed by Wikileaks on Friday, top DNC staffers were plotting to use Senator Bernie Sanders' religious beliefs against him and to characterize his campaign as a mess.
Three months before the Wikileaks dump of emails on Friday, which show a clear strategy by the DNC to undermine Sanders in favor of Hillary Clinton, Wall Street On Parade had previously asked the question "Are Hillary Clinton and the DNC Skirting Election Law?" in regard to the clearly biased structure of the Hillary Clinton and DNC joint fundraising committee, which operated for the benefit of each other as if Senator Bernie Sanders didn't exist. Wall Street On Parade also reported in April that the DNC's direct marketing firm displayed overt bias in favor of Clinton over Sanders on its Facebook page.
As a result of the leaked emails, DNC Chair Debbie Wasserman Schultz has announced she will step down from that position at the end of the Democratic National Convention which starts today in Philadelphia. Wasserman Schultz got a taste of what lies ahead for her at the convention as she was loudly booed at a convention breakfast this morning, according to an ABC News report.
The Wikileaks dump of the 20,000 emails will not be the end of disclosures about how the DNC under the tutelage of Wasserman Schultz orchestrated a campaign to coronate Hillary Clinton and undermine Sanders. A Federal class action lawsuit has been filed against the DNC and Wasserman Schultz alleging fraud, negligent misrepresentation, deceptive conduct, unjust enrichment, breach of fiduciary duty, and negligence. The suit, Wilding et al v DNC Services Corporation and Deborah 'Debbie' Wasserman Schultz (Case Number 16-cv-61511-WJZ) was originally filed by the law firm Beck & Lee on June 28, 2016. An amended complaint has subsequently been filed. Jared H. Beck of the law firm has indicated that over 1,000 plaintiffs have thus far signed retainer agreements with his firm in relation to the class action lawsuit.
Read More @ WallStOnParade.com
Help us spread the ANTIDOTE to corporate propaganda.

Please follow SGT Report on Twitter & help share the message.