by Pam Martens and Russ Martens, Wall St On Parade: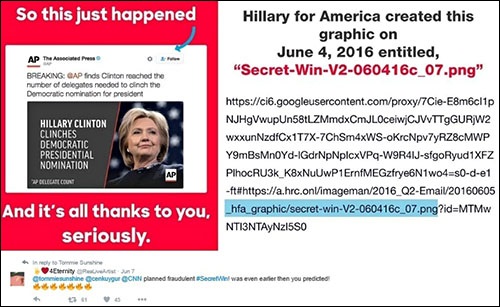 If Hillary Clinton was hoping for Bernie Sanders' supporters to fall in line and join her corporate media coronation, that scenario has taken an abrupt turn off the page. Charges now flying by Sanders' supporters on social media make the Politburo look like pikers when measured against the alleged conspiracy between the Clinton campaign and Associated Press.
Here's the timeline of the alleged conspiracy and sacking of a free election process:
On Monday evening, June 6, on the very eve of presidential primaries in six states, the Associated Press released its survey findings that Hillary Clinton had enough superdelegate votes to clinch the Democratic Presidential nomination.
This is how the Intercept's Glenn Greenwald reported what happened:
"Last night, the Associated Press — on a day when nobody voted — surprised everyone by abruptly declaring the Democratic Party primary over and Hillary Clinton the victor. The decree, issued the night before the California primary in which polls show Clinton and Bernie Sanders in a very close race, was based on the media organization's survey of 'superdelegates': the Democratic Party's 720 insiders, corporate donors, and officials whose votes for the presidential nominee count the same as the actually elected delegates. AP claims that superdelegates who had not previously announced their intentions privately told AP reporters that they intend to vote for Clinton, bringing her over the threshold. AP is concealing the identity of the decisive superdelegates who said this."
The Dow Jones media outlet, MarketWatch noted: "The AP made the call on the basis that enough of the so-called superdelegates — party elites including President Barack Obama and President Bill Clinton, who have special voting rights — were now supporting Clinton." (Obama and Bill Clinton? No wonder the Associated Press didn't reveal whom they called.)
Read More @ WallStOnParade.com
Help us spread the ANTIDOTE to corporate propaganda.

Please follow SGT Report on Twitter & help share the message.