Doctors often feel they owe drug companies for buying them lunch
by Julie Fidler, Natural Society: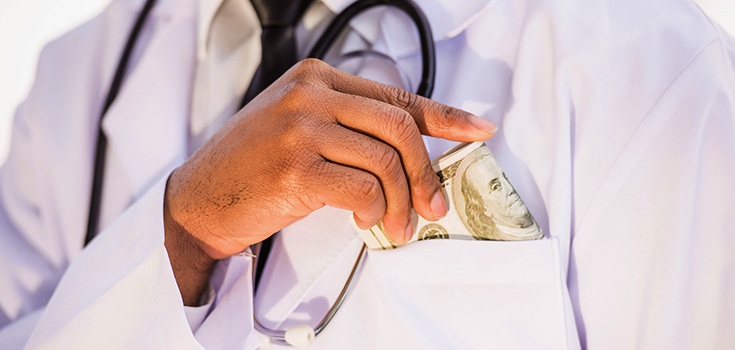 Drug companies don't need to give doctors thousands of dollars in kickbacks to sway them to prescribe their medications and implant their devices. A new study published online in JAMA Internal Medicine shows that doctors who received a free meal from a pharmaceutical company were more likely to prescribe the drug the company was promoting than doctors who received no such meals.
The findings of the study were based on an analysis of U.S. government data which tracked both industry payments to doctors and physicians' from 'Medicare Part D' and prescriptions of drugs. Researchers analyzed payments and prescriptions in 2013 associated with 3 brand-name cardiovascular drugs and 1 antidepressant, The Wall Street Journal reports. All of the drugs had lower-cost alternatives.
Drug companies regularly shower doctors with not only free food, but all kinds of trinkets, cash, and all-expenses paid vacations to exotic locations. In 2008, so many complaints had been lodged about the industry's efforts to influence doctors with gifts that the industry voluntarily gave up a lot of the items they offered to doctors, ranging from pens bearing a company's name, to expensive equipment. However, attractive-looking drug reps still hand out gifts to doctors, even if it's in the form of a pizza.
Just 1 Meal is Enough to Sway
Read: The Drug Industry Spent $27 Billion Marketing to Doctors in 2012
The study found that doctors who received just 1 meal, which often costs less than $20 on average, were up to 2 times more likely to prescribe a brand-name drug promoted by a company than a cheaper generic alternative, compared with physicians who did not accept a meal.
The team wrote:
Read More @ NaturalSociety.com
Help us spread the ANTIDOTE to corporate propaganda.

Please follow SGT Report on Twitter & help share the message.