by Mises, Market Oracle: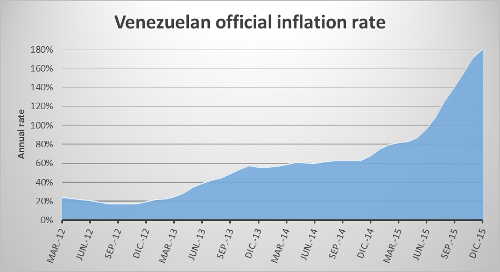 Daniel Fernández Méndez writes: The country of Venezuela is dangerously approaching hyperinflation. At 2015's year-end, official figures had yearly inflation at or above 180 percent (some private sector sources estimated it at 330 percent). The technical definition of hyperinflation is when inflation is at 50 percent or more per month, meaning that Venezuela is not yet at this point, but does seem to be approaching at an accelerated pace. The South American country finds itself with inflation rates at their worst in its history (1996 saw 103 percent yearly inflation) and the highest in the world (Ukraine is second with 50 percent yearly inflation).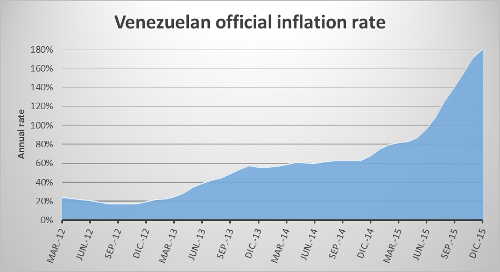 The main effects of hyperinflation are beginning to be felt. In every case in history where there has been hyperinflation, the main cause has been fiscal imbalance, and the case in Venezuela is no different. When there is a surge in the deficit, the same applies for inflation (graph 2).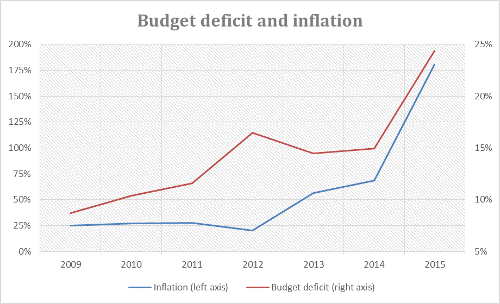 Normally, moderate inflation follows the path of the deficit with a relatively large delay, because economic agents are unable to anticipate deficit values and monetization with precision. On the other hand, in times of hyperinflation, inflation anticipates the deficit (economic agents overestimate new monetization policies and there is a universal tendency to evade local currency). In Venezuela, we can see that since 2013 (graph 3) inflation has increased at a faster rate than the deficit, and for this reason we can consider the country in a state of hyperinflation as of that date.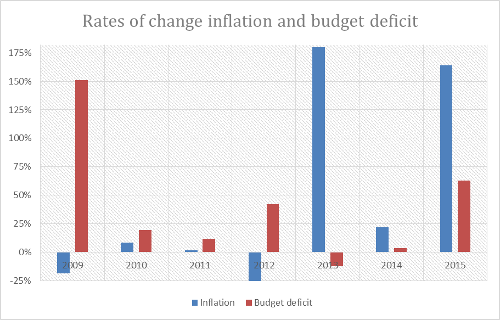 This creates a big problem for the government of Venezuela due to the fact that real tax revenues decrease (just as in all cases of hyperinflation). During the time between receipt of tax revenues and actually putting these taxes to use, inflation eats up the real value providing the government with less real revenue.
Read More @ MarketOracle.co.uk
Help us spread the ANTIDOTE to corporate propaganda.

Please follow SGT Report on Twitter & help share the message.