by Pam Martens and Russ Martens, Wall St On Parade: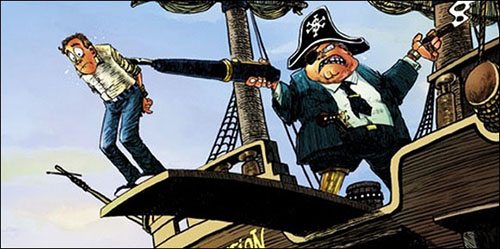 The ink was barely dry on a proposal by the Consumer Financial Protection Bureau (CFPB) to restore the rights of banking customers to take their grievances into a court of law instead of a system of forced arbitration, when House Republicans threw together a hearing yesterday to scaremonger over make-believe evils of the proposal. The hearing was convened by the Republican-controlled Financial Institutions and Consumer Credit Subcommittee of the House Financial Services Committee and not-so-subtly titled "Examining the CFPB's Proposed Rulemaking on Arbitration: Is it in the Public Interest and for the Protection of Consumers?"
The American Law Litigation Daily called the hearing "seriously lopsided." ValueWalk called it "skewed." We're calling it brazenly rigged.
In decades of watching Senate and House hearings, we have never seen a more unlevel playing field. Out of the four witnesses called to testify, three were hand-picked to parrot the position of the banks with one lonely witness on hand to counter their repeated misstatements of fact. Watching that one lone witness, Paul Bland, Executive Director of the nonprofit organization, Public Justice, attempt to provide balance to the proceeding was akin to watching bullies on the playground hurling dumb epithets at the straight-A kid in their class.
Most of the Republicans didn't even bother to call on Bland or ask his opinion. At one point, Republican Congressman Blaine Luetkemeyer of Missouri, a former banker himself, posed a slanted question to all four witnesses, then snapped at Bland, "You're outvoted, it's three to one." When you rig a witness panel, naturally you can easily achieve three opinions against one. (On a side note, Luetkemeyer is attempting to do to endangered species what's currently happening to banking customers – strip them of protections from predators.)
Read More @ WallStOnParade.com
Help us spread the ANTIDOTE to corporate propaganda.

Please follow SGT Report on Twitter & help share the message.