by Charles Hugh Smith, Of Two Minds: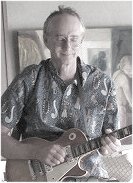 There are limits on what the Fed can do when this bubble bursts, as it inevitably will, as surely as night follows day.
It's no secret that virtually every pension fund is dead man walking, doomed by central banks' imposition of low yields on safe investments, i.e. Zero Interest Rate Policy (ZIRP).
Given that both The Economist and The Wall Street Journal have covered the impossibility of pension funds achieving their expected returns, this reality cannot be a surprise to anyone in a leadership role.
Many unhappy returns: Pension funds and endowments are too optimistic
Public Pension Funds Roll Back Return Targets: Few managers count on returns of 8%-plus a year anymore; governments scramble to make up funding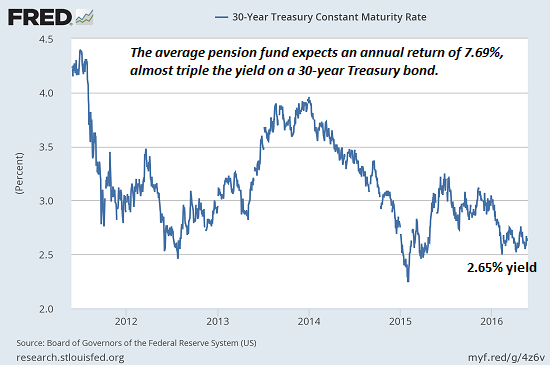 Here's problem #1 in a nutshell: the average public pension fund still expects to earn an average annual return of 7.69%, year after year, decade after decade.
This is roughly triple the nominal (not adjusted for inflation) yield on a 30-year Treasury bond (about 2.65%). The only way any fund manager can earn 7.7% or more in a low-yield environment is to make extremely high risk bets that consistently pay off.
This is like playing one hand after another in a casino and never losing. Sorry, but high risk gambling doesn't work that way: the higher the risk, the bigger the gains; but equally important, the bigger the losses when the hot hand turns cold.
Here's problem #2 in a nutshell: in the good old days before the economy (and pension funds) became dependent on debt-fueled asset bubbles for their survival, pension fund managers expected an average annual return of 3.8%–less than half the current expected returns.
In the good old days, the needed returns could be generated by investing in safe income-producing assets–high-quality corporate bonds, Treasury bonds, etc. The risk of losing any of the fund's capital was extremely low.
Now that the expected returns have more than doubled while the yield on safe investments has plummeted, fund managers must take risks (i.e. chase yield) that can easily wipe out major chunks of the fund's capital if the bubble du jour bursts.
Here's problem #3 in a nutshell: everyone who rode the great bubble of 1994 – 2000 (including pension funds) soon reckoned 10%+ annual returns on equities was The New Normal, so expecting 7.5% – 8% annual returns seemed downright prudent.
When that bubble burst, decimating everyone still holding equities, the Federal Reserve promptly inflated two new bubbles: one in stocks and another in housing. Once again, everyone who rode these two bubbles up (including pension funds) minted hefty profits year after year.
This seemed to confirm that The New Normal included the occasional spot of bother (a.k.a. a severe market crash), but the Federal Reserve would quickly ride to the rescue and inflate a new bubble.
Help us spread the ANTIDOTE to corporate propaganda.

Please follow SGT Report on Twitter & help share the message.