by Pam Martens and Russ Martens, Wall St On Parade: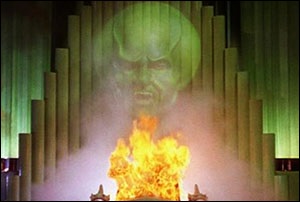 Yesterday, the Federal Reserve held a public board meeting to propose two new Byzantine rules to prevent another 2008-style financial contagion on Wall Street and potential crash of the U.S. economy. Unfortunately, the details brought images of the curtain scene from the Wizard of Oz. If you looked beyond the copious verbiage, there didn't seem to be much there, there.
Both plans appeared to target concerns over derivatives. Coincidentally, Freddie Mac, already a ward of the government as a result of the 2008 crash and a derivatives counterparty to some of Wall Street's largest banks, reported yesterday that it had lost $4.56 billion in its derivatives portfolio in just the first three months of this year. Derivative losses were an early precursor to the 2008 crash.
The first proposal mapped out by the Fed is called the Net Stable Funding Ratio and would require the largest banking organizations "to maintain a stable funding structure in relation to the composition of their assets, derivative exposures, and commitments." The Fed doesn't want a bank run or a demand for derivatives collateral to drain the bank of its liquidity. (Read the details of the proposed rule here.)
The second plan would establish restrictions within derivative and repo contracts of U.S. Global Systemically Important Banks (GSIBs) and the U.S. operations of foreign GSIBs. The idea is to prevent derivative or repo counterparties from cancelling the contracts if the GSIB failed and was put into resolution under the terms of the Dodd-Frank legislation. That could trigger a disorderly resolution and contagion at other banks (otherwise known as a repeat of 2008). The details of that rule proposal are here.
One of the Fed speakers described this second plan as follows: "…this proposal would not apply to subsidiary national banks of GSIBs or to federal branches of foreign GSIBs. The Office of the Comptroller of the Currency [OCC] is expected to propose a similar set of restrictions to cover those entities…"
Read More @ WallStOnParade.com
Help us spread the ANTIDOTE to corporate propaganda.

Please follow SGT Report on Twitter & help share the message.