by Charles Hugh Smith, Of Two Minds: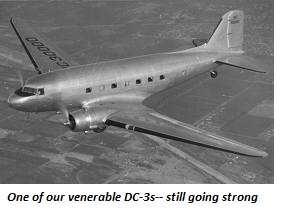 Frugal Airline's fare structure is very simple: we charge by the pound/kilo. 
Are you tired of shrinking airline seats and aisles, and being charged fees for everything that once was included in the ticket fee? If the answer is yes, you may be ready for a truly no-frills airline: Frugal Airline.
According to its sales brochure, Frugal Airline is licensed and certified in Afghanistan, and flies a variety of international routes on DC-3s and recent-vintage jet aircraft.
Frugal Airline doesn't pull any punches about its fare structure and amenities.Here is an excerpt from the sales brochure:
"Frugal Airline is in the business of transporting cargo. Our fare structure is very simple: we charge by the pound/kilo. So if you want to figure your fare, step on the scales to weigh yourself, weigh your baggage, and multiply the total by our per-pound/kilo cost. Easy!
As far as we are concerned, human beings are self-propelled sacks of liquid; a human passenger is no different from a load of lithium-ion batteries, except the human passengers require costly breathable air and a latrine. So we're actually giving passengers a break by charging them the same rate as we charge for grapes, parcels and whatever else somebody pays us to stuff into the cargo hold.
Some people complain our policy isn't fair because they were born big-boned. We here at Frugal Airline don't deal humanity's genetic or lifestyle cards–we transport cargo, period. We can't help it if somebody else was born small and slim. Our complaints department is a trash can with a slot in the lid. As we keep saying: we transport cargo, period.
Help us spread the ANTIDOTE to corporate propaganda.

Please follow SGT Report on Twitter & help share the message.