by Cipher Research, GoldSeek: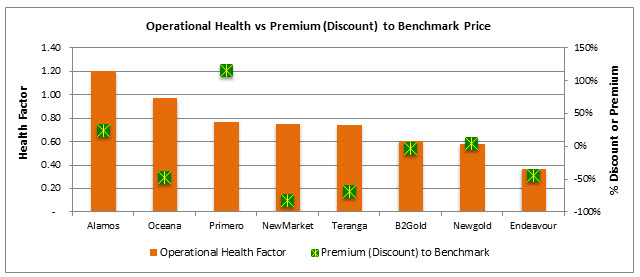 In this series we turn our attention to growth in the gold mining sector, the most active of which, occurs at the Mid-Tier level.
We study the growth of eight Mid-Tier gold mining companies: B2Gold (TSX:BTO), New Gold (TSX:NGD), Endeavour Mining (TSX:EDV), Oceana Gold (TSX:OGC), Primero Mining (TSX: P), Newmarket Gold (TSX:NMI) , Teranga Gold (TSX:TGZ), and Alamos Gold (TSX:AGI).
In The Real Cost of Growth for Gold Miners – Part 1 we measured and compared the cost of growth of the companies in the peer group. In Part 2 we captured the market value of growth. In Part 3 we turned our attention to the operational health of the eight Mid-Tier miners.
In the final part 4 we present the approach Cipher takes in valuing the Mid-Tiers.
OUR VALUATION APPROACH
In the most basic terms, the value of a gold mineral project is equal to the number of ounces in the ground that will be potentially extracted times the value or price of an ounce in the ground.
Value = Price X Quantity
Establishing Price 
To derive the value of an ounce of gold in the ground (Reserves & Resources) we divide the Enterprise Value of a company by the total number of Reserves and Resources (EV/Total Reserves + Resources) and take the average for all companies and all years to use as a benchmark of what an ounce of gold in the ground is worth as a percentage of the price of gold.
The following tables show the historic EV/oz Reserve & Resource and average value of gold in the ground as percentage of the market price of an ounce of gold for our peer group:
Help us spread the ANTIDOTE to corporate propaganda.

Please follow SGT Report on Twitter & help share the message.