by Pam Martens and Russ Martens, Wall Street on Parade: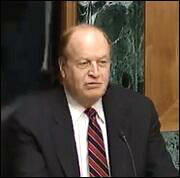 Tomorrow the Senate Banking Committee, chaired by Senator Richard Shelby since the Republicans took control of the Senate in the 2014 midterms, will hold a hearing on "Assessing the Effects of Consumer Finance Regulations." That title can be easily translated into "How to Achieve the Lobbyists' Dream Wish of Killing Off the Consumer Financial Protection Bureau and Its Embarrassing Ability to Perpetually Show How Deregulation of the Financial Services Industry Has Led to Wholesale Looting of the Public."
Senator Shelby does not even make a pretense of presenting a balanced slate of witnesses at these hearings and one has to question why the Ranking Member, Senator Sherrod Brown, a Democrat, is not holding Shelby's feet to the fire on this issue.
Tomorrow's hearing has three panelists listed: Leonard Chanin, Of Counsel at Morrison and Foerster – a law firm that was a registered lobbyist for the American Bankers Association last year according to the Center for Responsive Politics; David Hirschmann, another registered lobbyist and CEO of the U.S. Chamber of Commerce Center for Capital Markets Competitiveness. The U.S. Chamber of Commerce has spent $62 million lobbying Congress since 1998 in an effort to gut or water down regulations of Wall Street and other big corporate groups. (For a more in-depth understanding of what drives the U.S. Chamber of Commerce, not to be confused with the small business organization in your community known as the Chamber of Commerce, read Susan Antilla's "Chamber of Commerce Gives Wall Street, Polluters What They Pay For.")
Rounding out tomorrow's panel is Todd Zywicki, a senior scholar at the rabidly anti-regulatory Mercatus Center and a Law Professor at the related George Mason University. According to SourceWatch, the Mercatus Center "was founded and is funded by the Koch Family Foundations," the nonprofits set up by the Koch brothers to sluice money into a sprawling maze of think tanks, corporate front groups, and university economic departments. SourceWatch reveals that "the Koch family has contributed more than thirty million dollars to George Mason, much of which has gone to the Mercatus Center."
One of the luminaries of Mercatus Center fame is Wendy Lee Gramm, whom the Mercatus Center archives credits with setting up its "Regulatory Studies Program" in 1999. Gramm was also the former Chair of the Commodity Futures Trading Commission (CFTC) from 1988 to January 1993, which took a hands off approach to regulating derivatives:
Read More @ Wallstreetonparade.com
Help us spread the ANTIDOTE to corporate propaganda.

Please follow SGT Report on Twitter & help share the message.