by Pam Martens and Russ Martens, Wall St On Parade: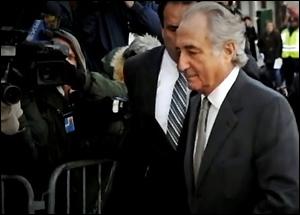 Buried in a report released yesterday by the Government Accountability Office (GAO) was a stunning piece of news. Customers of JPMorgan Chase, the bank that Wall Street analyst Mike Mayo has preposterously called the "Lebron James of banking," were major victims of Bernie Madoff's Ponzi scheme – to the tune of $5.4 billion – because of negligence on the part of the bank. The report states the following:
"In 2014, DOJ [Department of Justice] assessed a $1.7 billion forfeiture – the largest penalty related to a BSA [Bank Secrecy Act] violation – against JPMorgan Chase Bank. DOJ cited the bank for its failure to detect and report the suspicious activities of Bernard Madoff. The bank failed to maintain an effective anti-money-laundering program and report suspicious transactions in 2008, which contributed to their customers losing about $5.4 billion in Bernard Madoff's Ponzi scheme."
The JPMorgan Chase settlement with the Justice Department came in January 2014, more than two years ago, but thus far, according to the GAO, Madoff victims haven't seen a dime of the money.
According to the Special Master for the Justice Department, he's still wading through 64,000 claim forms. The Justice Department's Madoff Victim Fund functions separately from the victims fund being operated by the bankruptcy trustee, Irving Picard. That fund has already distributed $8.6 billion out of $11.1 billion recovered to date. The forfeiture laws under which the Justice Department's fund will be operated allowed Madoff victims who invested through feeder funds, as well as through a direct account with Madoff, to submit a claim.
JPMorgan Chase and banks it had purchased had held the Madoff business account for more than two decades. According to the Securities Investor Protection Corporation (SIPC), the Justice Department prosecutors who settled the criminal case against JPMorgan Chase in the Madoff matter used the investigative material that Picard had already unearthed. That investigative material showed that JPMorgan Chase had relied on unaudited financial statements and skipped the required steps of bank due diligence to make $145 million in loans to Madoff's business.
Read More @ WallStOnParade.com
Help us spread the ANTIDOTE to corporate propaganda.

Please follow SGT Report on Twitter & help share the message.