by Pam Martens and Russ Martens, Wall Street on Parade: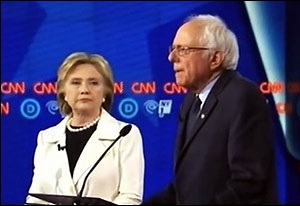 During the series of Democratic debates, including the one last night hosted by CNN, Hillary Clinton has repeatedly trumpeted the record of President Obama in signing tough legislation to rein in Wall Street abuses when questioned on her money spigot flowing from Wall Street. According to her logic, since Obama's campaign and his Super Pacs took plenty of money from Wall Street and went ahead and enacted tough Dodd-Frank reform legislation, why should her integrity be questioned.
Early in last night's debate, when Sanders raised the fact that she and a Super Pac supporting her have taken $15 million from Wall Street, Clinton had this to say:
"Well, make — make no mistake about it, this is not just an attack on me, it's an attack on President Obama. President Obama…You know, let me tell you why. You may not like the answer, but I'll tell you why. President Obama had a super PAC when he ran. President Obama took tens of millions of dollars from contributors. And President Obama was not at all influenced when he made the decision to pass and sign Dodd-Frank, the toughest regulations on Wall Street in many a year. So this is — this is a phony — this is a phony attack that is designed to raise questions when there is no evidence or support, to undergird the continuation that he is putting forward in these attacks."
This is a highly dangerous quagmire of quicksand for Hillary Clinton to stand on. It will only work if she can turn out millions of low information voters in the remaining state primaries. Unfortunately for her, Senator Bernie Sanders is drawing tens of thousands of newly engaged voters to his high information rallies and speeches and millions more to his high information campaign web site.
What has remained unsaid in this debate cycle is that Dodd-Frank is the antithesis of financial reform with teeth and provided no real cops on the beat. Dodd-Frank is, in fact, the very evidence that Hillary says doesn't exist to show that Wall Street bought itself a boatload of cozy deals from Obama in exchange for its cash windfall to his campaign.
Read More @ Wallstreetonparade.com
Help us spread the ANTIDOTE to corporate propaganda.

Please follow SGT Report on Twitter & help share the message.