by Charles Hugh Smith, Of Two Minds: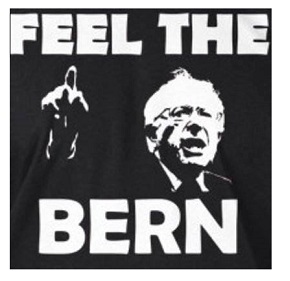 Always remember who's selling whom, and who's in charge.
Everyone who isn't willfully blind knows that the Corporate (mainstream) Media doesn't give the same coverage to Bernie Sanders as it does to his opponent, Hillary Clinton.Bernie's rallies go unmentioned, his victories are given short shrift and his personal narrative–practically ideal for media glorification–is mentioned in passing, if at all.
A media professional clued me into why the Corporate Media hates Bernie and will move Heaven and Earth to defeat him: Sanders is the only candidate who is seriously promoting campaign finance reform.
When a Super-PAC raises $100 million for Hillary, Jeb, et al., where does 90% of that money go? To the Corporate Media. Corporate Media gorges on political media buys every two years, and increasingly depends on this feasting on Super-PAC money for its outsized profits.
As more and more advertising dollars flow to digital media (online search, Facebook, etc.), traditional media dominated by a handful of corporate giants needs the massive influx of campaign dollars to offset its stagnating revenue model.
My source notes that there are rarely any discounts for campaign media buys–the super-PACs and candidate's campaigns pay full pop, and typically pay in cash: no 90 days receivables for campaigns.
Political campaign buys are almost pure profit, as there is minimal sales effort required and the campaign/super-PAC is paying full freight.
Real campaign finance reform would gut Corporate Media's profits. No wonder the Corporate Media downplays Sanders' campaign, his personal integrity and his chances to become president.
Help us spread the ANTIDOTE to corporate propaganda.

Please follow SGT Report on Twitter & help share the message.