by Pam Martens and Russ Martens, Wall Street on Parade: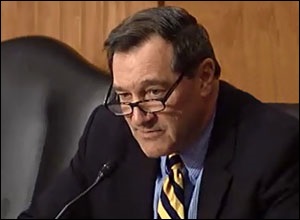 A young black girl got a civics lesson in dystopian society sitting in the front row of the Senate Banking hearing this past Tuesday. Her expression was that of someone watching a Halloween horror film. The young girl was the daughter of Lisa Fairfax, a George Washington University law professor who brought her family members along to share her confirmation hearing to potentially become a Commissioner at the Securities and Exchange Commission. Hopefully, what the young girl observed will be enough to head her off in a career direction of white collar criminal law.
Senator Joe Donnelly delivered a heartfelt review of what is going on in his home state of Indiana, asking the two SEC nominees, Hester Peirce and Fairfax, what role the SEC should play in the matter.
Donnelly stated:
"Ms. Peirce, I want to tell you a little bit about what happened in Indiana. I know you're from Ohio. We had 2100 workers fired for a company that said we are at the high end of expectations for earnings; that is in the middle of a $16 billion stock buyback; and they were fired so the jobs could be sent to Mexico for $3 an hour. Among the folks fired were over 60 veterans who had put their lives on the line for our country.
"Going a little bit more into this, the CEO from two years ago, approximately, walked away with a golden parachute of over $190 million in stocks and in others. The present CEO makes over $10 million a year and the savings they're gonna have by firing all these workers who gave their heart and soul to the company, they say it's going to be $60 million approximately. I think it's probably less. But that's one third of one percent of the stock buyback."
Senator Donnelly is referring to United Technologies CEO Louis Chenevert who walked away from the company in late 2014 with a golden parachute package valued at "more than $195 million in company stock and pension benefits, according to an analysis by ClearBridge Compensation Group," as reported by Fortune magazine.
Read More @ Wallstreetonparade.com
Help us spread the ANTIDOTE to corporate propaganda.

Please follow SGT Report on Twitter & help share the message.