from Wolf Street: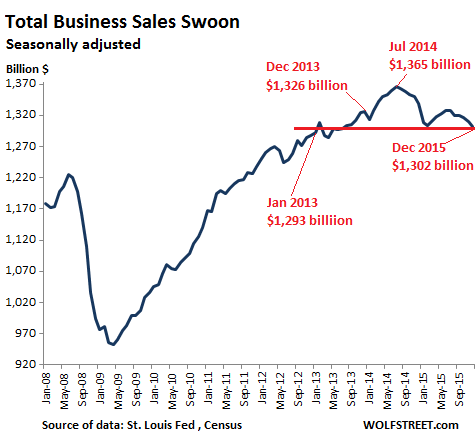 With actual P/E Ratios Blowing Out Like this.
Just how overvalued are stocks, particularly small-caps? According to Wall Street, even the question is wrong. Stocks are never overvalued. They're always a buy. The future looks bright. And even if it doesn't look bright, analysts come up with "adjusted" earnings that are so brilliant that they blind even innocent bystanders. That's how Wall Street justifies high stock prices.
Our miraculously visionary analysts see on average an "adjusted" forward P/E ratio for the next 12 months of 15.8 for the Dow, 16.5 for the S&P 500, 17.8 for the Nasdaq, and – get this – 16.5 for the Russell 2000, the small-cap stock market index that tracks the bottom 2,000 stocks in the Russell 3000. If that were an actual P/E ratio, the Russell 2000 would be a screaming buy. But a look at reality shows just how ludicrous these "adjusted" P/E ratios, particularly for the Russell 2000, have become. And how these folks are trying to pull a bag over our heads.
So first things first. Sales are crummy. Worse than crummy. They suck.
Total US business sales – not just sales by S&P 500 companies but also sales by small caps and all other businesses, even those that are not publicly traded – peaked in July 2014 at $1.365 trillion, according to the Census Bureau. By December 2015, total business sales were down 4.6% from that peak. A bad 18 months for sales! They're back where they'd first been in January 2013!
Sales by S&P 500 companies dropped 3.8% in 2015, according to FactSet, the worst year since the Financial Crisis.
The strong dollar gets blamed, along with the weather. But the strong dollar is a mixed bag. Many companies whose sales are limited to the US don't feel the strong dollar, except they're benefiting from the lower input costs it produces. Worse than the strong dollar and the weather: Companies face a slowdown and a very tough environment in the US and globally.
Help us spread the ANTIDOTE to corporate propaganda.

Please follow SGT Report on Twitter & help share the message.