by Pam Martens and Russ Martens, Wall Street on Parade: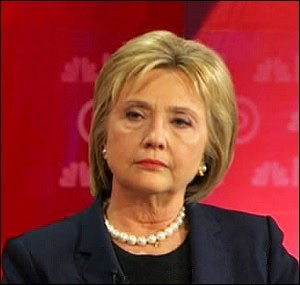 You know there is something bizarre going on in American politics when the New York Times endorses Hillary Clinton for President at the end of January and then begins to question her judgment before a month goes by. What message does it send to voters when a major newspaper sounds like it has endorser's remorse and we're still in the primary season?
One month ago, the Old Gray Lady said that Democratic primary voters "have the chance to nominate one of the most broadly and deeply qualified presidential candidates in modern history." Unfortunately, they weren't talking about Senator Bernie Sanders of Vermont, who has served with distinction in Congress for 25 years (16 years in the House and the last nine years in the Senate). The Times was speaking about Hillary Clinton, whose actual tenure in Washington feels like it is one endless episode of a bawdy reality TV show based on "The Scandals of Hill and Bill."
The reader reaction to its endorsement likely stunned the editorial page editors at the Times. Over 5700 comments appeared over the next eight days with many running along the lines of Marian from New York City, who wrote:
"Throughout the decades, The Times has erroneously endorsed the Clintons in spite of their corruption.
"This endorsement not only suffers from the same error, it is also dishonest. In the past, The Times gave full-throated acknowledgment of Clinton corruption, but argued, erroneously, that 'good policy' trumps character."
Marion perfectly captures the anti-establishment outrage across the country. How dare the New York Times shove a candidate at us who has wallowed in Wall Street money from firms charged with felonies while she is under an FBI investigation for transmitting sensitive government communications over a household server.
If good character no longer matters to the New York Times – what does that say about media ethics in America?
Read More @ Wallstreetonparade.com
Help us spread the ANTIDOTE to corporate propaganda.

Please follow SGT Report on Twitter & help share the message.