by Pam Martens and Russ Martens, Wall Street on Parade: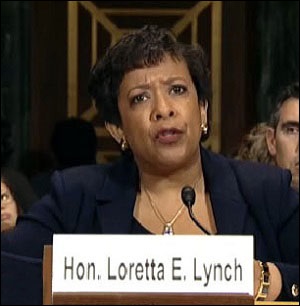 This past Wednesday, the U.S. Senate Judiciary Committee held a hearing with U.S. Attorney General Loretta Lynch as part of its oversight of the Justice Department. One line of questioning concerned how the White House is suggesting it has an inside track on what the Justice Department plans to do regarding its investigation of Hillary Clinton's use of a private server in her house to transmit all of her government and personal emails while she served as U.S. Secretary of State. According to a January 14, 2016 unclassified letter from the Inspector General of the Intelligence Community, I. Charles McCullough III, to members of Congress, some of those emails have been deemed to have a classification of Top Secret. (Clinton has repeatedly asserted that no classified material was sent over her unsecure server originally but that it has been classified subsequently.)
The line of questioning by Republicans on the Judiciary Committee stems from two separate events. First, on October 11, 2015, President Obama appeared on 60 Minutes and told interviewer Steve Kroft that the email issue seemed to be "ginned up" because of politics. He also, improperly, weighed in on whether it posed a national security problem, saying it didn't. Clearly, the President didn't have all the facts at that point and prosecutors should not have the President of the United States characterizing the nature of their investigation and where it might be heading.
This is the key part of the exchange on 60 Minutes:
Steve Kroft: Did you know about Hillary Clinton's use of private email server–
President Obama: No.
Steve Kroft: –while she was Secretary of State?
President Obama: No.
Steve Kroft: Do you think it posed a national security problem?
President Obama: I don't think it posed a national security problem. I think that it was a mistake that she has acknowledged and — you know, as a general proposition, when we're in these offices, we have to be more sensitive and stay as far away from the line as possible when it comes to how we handle information, how we handle our own personal data. And, you know, she made a mistake. She has acknowledged it. I do think that the way it's been ginned up is in part because of — in part — because of politics. And I think she'd be the first to acknowledge that maybe she could have handled the original decision better and the disclosures more quickly.
Next came remarks by President Obama's Press Secretary, Josh Earnest.
Read More @ Wallstreetonparade.com
Help us spread the ANTIDOTE to corporate propaganda.

Please follow SGT Report on Twitter & help share the message.