by Pam Martens and Russ Martens, Wall Street on Parade: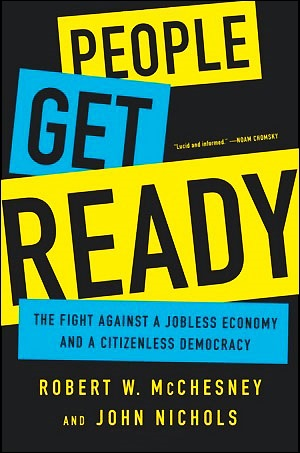 Landing in the midst of the most critical election season since the New Deal era of the 30s, comes a masterpiece of labor history and political strategy from the prolific author, Robert W. McChesney, and John Nichols, the popular national affairs correspondent at The Nation. Both McChesney and Nichols are co-founders of Free Press, a national media reform organization.
People Get Ready: The Fight Against a Jobless Economy and a Citizenless Democracy provides the reader with, first, an exquisite understanding of how the U.S. evolved into a society where the citizen has been kicked to the curb in their "democracy" and, next, a strategic road map for a peaceful revolution. The authors write that "The United States retains the façade of democracy. It remains a democracy on paper and in our hearts. But ours is, increasingly, a citizenless democracy…Oligarchs and their servants call the shots for the feudal serfs of corporate capital."
What this citizenless democracy has fostered is unbridled financial looting, creating the greatest wealth inequality since the 1920s. "In the absence of an engaged citizenry," write the authors, "economic crimes are committed and the criminals are rewarded." To underscore that reality, McChesney and Nichols walk us through the financial crimes and bailout rewards to the Wall Street perpetrators during the 2008 crash and its aftermath.
Young workers – the "Generation Screwed" as Newsweek characterized them – are the most hard hit, buried under student debt with few good job options. That will continue as technology automates and eliminates more jobs – unless an engaged citizenry grabs the reins and places technology in service to humanity.
In a section on "labor market polarization," the authors explain that we now have an economy producing "great jobs for those at the top, a mountain of crappy jobs at the bottom, and fewer and fewer jobs in between." They quote economist Tyler Cowen to clarify that " 'Most of the measured declines in employment participation have been coming from younger men, not early retirees.' " One staggering statistic shows that in 2014, 16 percent of men aged 25 to 54 were not working. That figure in the 1960s was 5 percent. And, it's not because women are taking their jobs. The authors note that "The percentage of women in the workforce peaked in the late 1990s and is now back to levels not seen since the 1980s."
Read More @ Wallstreetonparade.com
Help us spread the ANTIDOTE to corporate propaganda.

Please follow SGT Report on Twitter & help share the message.