by Pam Martens and Russ Martens, Wall Street on Parade: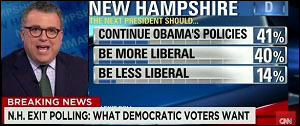 The world woke up this morning to find that the populist stirrings that were fanned by the leaderless Occupy Wall Street movement, which first galvanized the debate on the wealth and income inequality of the 99 percent, have been simmering in the hearts and minds of voters ever since. Apparently, voters were simply waiting for an authentic presidential candidate to frame their demands into a cohesive message. Yesterday, Senator Bernie Sanders of Vermont crushed Hillary Clinton in the first presidential primary in New Hampshire, taking 60 percent of the Democratic vote to Hillary's 38.4 percent with over 90 percent of the vote counted.
Donald Trump took 35.1 percent of the Republican vote, with the current Governor of Ohio, John Kasich, coming in at a distant second with 15.9 percent, based on a little over 90 percent of the vote counted. (See full results here.)
No one is exactly sure what message Republican voters are trying to send, although some suspect it's that they want a billionaire candidate with the guts to talk dirty in public and insult women and minorities – in other words, they want to live vicariously through Trump in an Archie Bunker remake of America. At a campaign rally in Manchester, New Hampshire, just one day before the primary, Trump repeated into the microphone what an audience member yelled out, calling rival Ted Cruz a "p—y." Trump has also disparaged Carly Fiorina's face, bizarrely questioning if it rendered her unfit for the White House, while proposing to temporarily ban all Muslims from entering the U.S., which led to a call to ban Donald Trump from entering the U.K. – not the finest moment in diplomacy for the U.S.
One key finding from the exit polls in New Hampshire is that despite billions of dollars spent by the Koch brothers and their ilk in attempts to make the word "liberal" a four letter word, voters are now prepared to stake their claim to the mantle. In the video clip below, a very animated David Chalian, CNN's Political Director, explains that exit polls among Democrats in New Hampshire yesterday showed that a whopping 40 percent of Democrats want someone more liberal than Obama.
Equally fascinating, David R. Jones, writing for the New York Times, took the same exit polling facts and turned them into a headline that read: "Most Democrats Do Not Want More Liberal Policies." Technically, that is true. According to CNN, 41 percent want to continue Obama's policies; 40 percent want a president with more liberal policies; while only 14 percent want someone less liberal. But Obama is already supposed to be a liberal. If 40 percent of Democrats don't think he's walking the walk, then what does that say about Hillary's chances to win this election when she's on record telling a big crowd at a Women for Hillary event in Ohio last fall that she's a moderate. Her exact words were: "You know, I get accused of being kind of moderate and center. I plead guilty." (See second video clip below. To understand where the Times is coming from, read this.)
Read More @ Wallstreetonparade.com
Help us spread the ANTIDOTE to corporate propaganda.

Please follow SGT Report on Twitter & help share the message.