from Wolf Street:
Tensions are rising in Mexico's model economy. Chief among them is the spectacular decline of the Mexican peso, which has lost 8% percent of its value so far this year against the dollar, more than any other major currency. Since June 2014, it has shed 33% of its weight, now at 19.2 pesos to the U.S. dollar, the lowest ever.
Here is what the peso crash looks like, weekly, in terms of the value of one peso in US cents:
In many ways the peso is a victim of its own popularity. As the world's most traded emerging market currency, the peso is prone to steep ups and downs. The market for the peso is so much deeper than for any other emerging market currency that many traders use it as a general proxy for risk.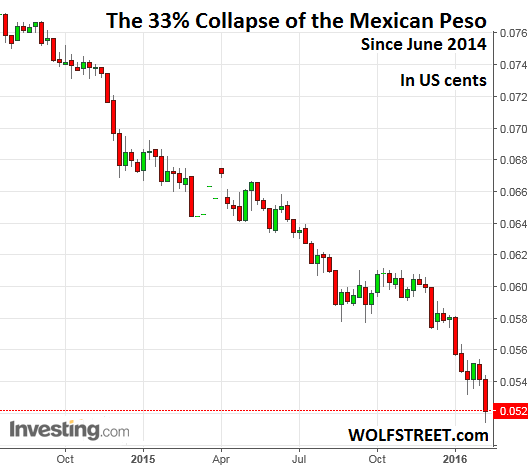 And risk is very much on the rise these days.
"People use hedges via the peso like Kleenex — if they think they are about to sneeze, they grab one," Alejandro Silva, a partner at Chicago-based Silva Capital Management, told Bloomberg. "It's a currency so liquid, so large that when big problems like Greece happen and a money manager needs to place a hedge for its portfolio, the easiest thing to do is buy dollars with their pesos."
The Bank of Mexico has tried to stem the tide by selling a small but growing fraction of its dollar reserves in open auctions. Whenever the peso has a particularly bad day the central bank will trade some of its dollars for pesos. The amount under auction has risen inexorably, to $50 million, then to $200 million, and recently to $400 million.
Help us spread the ANTIDOTE to corporate propaganda.

Please follow SGT Report on Twitter & help share the message.