by Pam Martens and Russ Martens, Wall Street on Parade: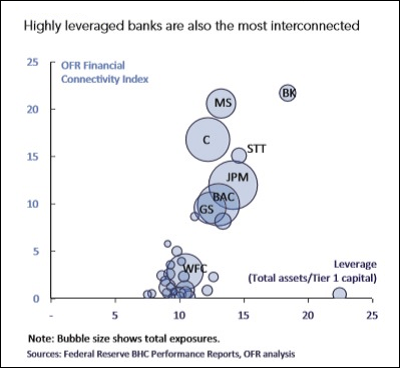 Market action since the Federal Reserve's first, in a promised series, of rate hikes on December 16 to put the U.S. back on a path of "normalization" and end its seven-year zero-interest-bound policy has reminded us of that line from the movie "Six Days Seven Nights." Actress Anne Heche goes on what was supposed to be a pre-honeymoon vacation to instead experience a plane crash, be held hostage, and fight for her very survival. At one point she says words to the effect: I don't know how much more of this vacation I can take. Investors might be forgiven for feeling the same way about the Fed's idea of "normalization."
What U.S. investors woke up to this morning was another day of market hell. Futures on the Dow Jones Industrial Average were showing a loss of more than 300 points; Europe and Asia stocks had been pummeled overnight; and domestic crude oil (West Texas Intermediate) had sunk to a new 12-year low under $28 a barrel. According to Bloomberg News, on a global basis, as measured by the MSCI All-Country World Index, stocks have now lost over $15 trillion since May.
As for the Fed's ability to get interest rates moving back up, the 10-year U.S. Treasury note which closed at a yield of 2.29 percent on the day of the Fed's rate hike announcement on December 16, has this morning broken below 2 percent to trade at a yield of 1.97 percent.
Business news pundits in the meantime are attempting to find a culprit to explain the carnage. China is getting most of the finger-pointing for its slowing economy bogged down with debt. It can no longer be the global engine of growth since it no longer wants or needs or can afford the glut of industrial commodities being produced by developing countries. This has led to a collapse in commodity prices.
Without the exports to China, developing countries and corporations inside those countries that issued U.S. dollar-denominated debt now find themselves in the precarious position of having shrinking export profits and a currency that has lost value versus the U.S. dollar. That effectively has increased the amount of debt they owe to U.S. banks which has, in turn, raised worries among investors about the potential for unreserved loan losses at the mega Wall Street banks.
Two Wall Street banks, Citigroup and Morgan Stanley, have seen their share prices decline by more than 30 percent since July. JPMorgan Chase, Goldman Sachs and Bank of America have also experienced double-digit declines in the same period.
Read More @ Wallstreetonparade.com
Help us spread the ANTIDOTE to corporate propaganda.

Please follow SGT Report on Twitter & help share the message.