by Steve St. Angelo, SRS Rocco: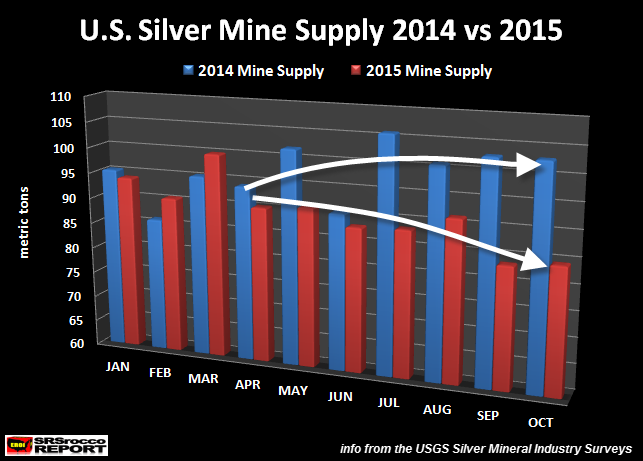 After U.S. silver production declined nearly 20% in September (y.o.y), this continued again in October. According to the USGS Silver Mineral Industry Survey, silver production in the U.S. fell to 84.6 metric tons (mt) in October compared to 103 mt during the same month in 2014.
As we can see in the chart below, U.S. silver production in 2015 starting to fall lower in July compared to the much higher trend last year.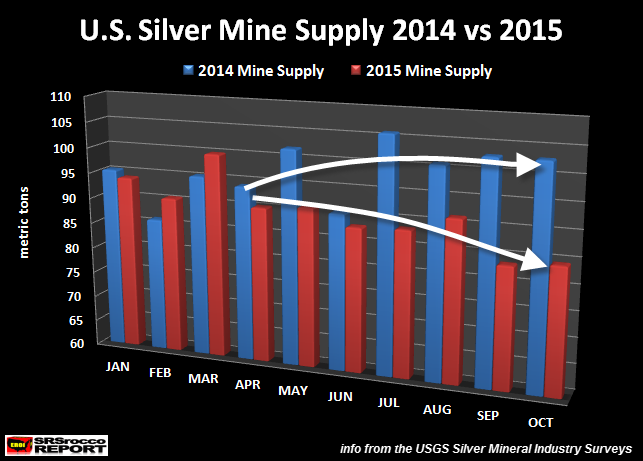 If we look at the next chart below, we can see just how much lower U.S. silver production has declined in the past two months: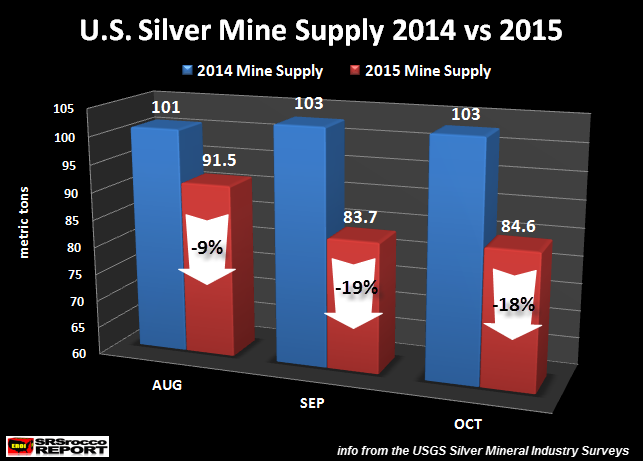 Domestic silver production in the U.S. is down 19% in September and 18% in October verses the same months last year.  Even though the USGS will continue to revise these figures going forward, this is a significant trend change.  Year to date U.S. silver production is down 6.7%.  If we continue to see lower declines in November and December, I would imagine that figure will grow to 8-9%.
While U.S. silver production isn't ranked in the top producers of the world, I believe what is happening in the states will also occur in many other countries as lower silver and base metal prices impact the balance sheets of mining companies.
Global Peak Silver May Have Arrived
I will be writing more about this in future articles.  But, I believe there is a good chance that Global Silver Production has peaked.  It will depend on how things unfold in the U.S. and Global markets in 2016, but if we experience a continued collapse of Global GDP… then yes, PEAK SILVER AS ARRIVED.
Help us spread the ANTIDOTE to corporate propaganda.

Please follow SGT Report on Twitter & help share the message.