Humpback whales usually arrive in the waters off Hawaii in December. But not this year. Why?
from AP, via Christian Science Monitor: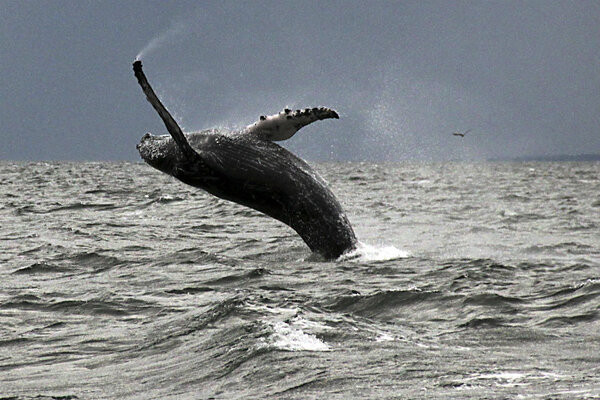 HONOLULU — December usually marks the start of humpback whale season in Hawaii, but experts say the animals have been slow to return this year.
The giant whales are an iconic part of winter on the islands and a source of income for tour operators. But officials at the Humpback Whale Marine Sanctuary said they've been getting reports that the whales have been difficult to spot so far.
"This isn't a concern, but it's of interest. One theory was that something like this happened as whales increased. It's a product of their success," said Ed Lyman, a Maui-based resource protection manager and response coordinator for the sanctuary.
What I'm seeing out there right now I would have expected a month ago," said Lyman, who was surprised by how few of the animals he saw while responding to a call about a distressed calf on Christmas Eve. "We've just seen a handful of whales."
It will be a while before officials have hard numbers because the annual whale counts don't take place until the last Saturday of January, February and March, according to former sanctuary co-manager Jeff Walters.
"They don't necessarily show up in the same place at the same time every year," Walters said.
Brian Powers, a Kailua-Kona aerial photographer who has spent years capturing images of humpbacks from the air, can be counted among those waiting, according to West Hawaii Today.
I've been looking for the last month and have not seen one," he said.

This time of year, cars are usually lined up on the edge of the Akoni Pule Highway as whale watchers gather roadside and on hills to take in the nearshore displays of pec slapping, blows and the giant, lunging breaches of aggressive and amorous males.
More than 10,000 humpback whales make the winter journey from Alaska to the warm waters off Hawaii to mate and give birth.
Help us spread the ANTIDOTE to corporate propaganda.

Please follow SGT Report on Twitter & help share the message.