by James Corbett, Corbett Report: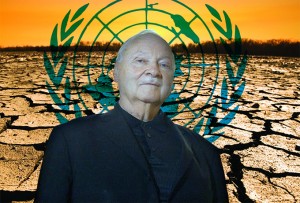 "Disgraced kleptocrat Maurice Strong died late last year at the age of 86. He was shunned from polite society and forced into a life of exile in Beijing after his decades of business intrigues, crimes against humanity, and environmental destruction unraveled. His savagery culminated with an attempt to profit off of the death of starving Iraqi children. His funeral was a quiet affair, attended only by those few family members who could not find it in their heart to shun him completely. Former friends and business associates like Paul Martin, James Wolfensohn, Kofi Annan, Conrad Black, and Al Gore all avoided calls for comments on their disgraced friend's passing."
…is how Maurice Strong's legacy would have been remembered in any reasonable world. Instead we get this:
"On Wednesday, hundreds will gather across from Parliament Hill for an extraordinary commemoration. The Governor General, the Prime Minister, the Minister of the Environment, the former president of the World Bank – among other dignitaries, in and out of office – will pay homage to one of the great Canadians of his generation. They will celebrate the life of Maurice Frederick Strong, who died on November 27. His passing brought the obligatory obituaries and personal tributes. But in a country that often hides its light under a barn, Maurice Strong – and the feverish, consequential life he led at home and abroad – should not go uncelebrated."
And the accolades just keep pouring in.
From Canadian PM Justin Trudeau: "Maurice Strong was a pioneer of sustainable development who left our country and our world a better place."
From the co-founder of the World Economic Forum at Davos: "He was a great visionary, always ahead of our times in his thinking."
From author and philosopher John Ralston Saul: "He changed the world."
In fact, a whole gaggle of globalists showed up to pay tribute to the memory of Strong earlier this week in Ottawa, from former World Bank president James Wolfensohn to under-secretary general of the UN Achim Steiner to Martin Lees, the former secretary-general of the Club of Rome. Written condolences poured in from other prominent globalists including Mikhail Gorbachev, Gro Harlem Bruntland and Kofi Annan.
So why exactly was Maurice Strong so beloved by the globalist jet set?
Oh, that's right:
INTERVIEWER: "Maurice Strong doesn't have any ambition for the United Nations to become the world's government?"

STRONG: "No, and it's not necessary, it's not feasible, and certainly we are a long way from any such thing. But we do need–if we are going to have a more peaceful world, a more secure world–we need a more effective system of cooperation, which is what I call 'system of governance.' And the United Nations, with all its difficulties, is the best game in town."
President of Power Corp. President of the Canadian International Development Agency. Chair of Petro Canada. Chair of Ontario Hydro. Head of the United Nations Environmental Program. Founding member of the World Economic Forum at Davos. Father of the IPCC. Committed globalist.
No, it is not difficult to see why globalists love arch-globalist Maurice Strong. But how did this man, a dirt poor high school dropout from Oak Lake, Manitoba, rise to become an international wheeler-dealer who is responsible for shaping our modern day globalist institutions? The story is as unlikely as it is instructive, and it leads us from the heart of the oil patch to the formation of the IPCC.
Given Strong's remarkable ascent through the ranks of political power to become a globalist kingpin, it won't be surprising to hear that he had political connections in his family. But it may be surprising to hear where those connections were placed. His aunt,Anna Louise Strong, was a committed communist who befriended Lenin and Trotsky (who asked her to teach him English) before she ultimately settled in China, where she was on familiar terms with Mao Zedong. She became close with Zhou Enlai, who wept openly when she was buried with full honors in Beijing's Babaoshan Revolutionary Cemetery.
Unfortunately for humanity, the apple didn't fall far from the tree with young Maurice. Born in rural Manitoba in 1929 and suffering through the worst of the Great Depression, Maurice Strong drops out of school at age 14 to look for work. He works his way around as a deck hand on ships and then, at age 16, as a fur buyer for the Hudson's Bay Company in Canada's North. There he meets "Wild" Bill Richardson, whose wife, Mary McColl, hails from the family behind McColl-Frontenac, one of Canada's largest petroleum companies.
Through Richardson, Strong makes contacts that propel him into his unlikely career. AsWikipedia cryptically explains:
"Strong first met with a leading UN official in 1947 who arranged for him to have a temporary low-level appointment, to serve as a junior security officer at the UN headquarters in Lake Success, New York. He soon returned to Canada, and with the support of Lester B. Pearson, directed the founding of the Canadian International Development Agency in 1968."
As far as massive narrative gaps and cryptic cover-ups of detail go, that paragraph is a masterpiece. The truth is even weirder. That "UN official" referred to by Wiki? That was none other than the Treasurer of the UN himself, Noah Monod. In fact, Monod doesn't just get him a job, he gives him a place to live; the two room together during Strong's time in the Big Apple. But most importantly, Monod gives him an introduction to the man who more than any other will be behind his meteoric rise to international superstardom: David Rockefeller.
Maurice Strong liked to relate the story that he had been confrontational with Rockefeller at the start. According to Strong, some of his first words to David were "I'm deeply prejudiced against you and all your family stands for." Oddly, David doesn't remember the meeting that way, saying instead that the two had "a strong working relationship."
Either way, from that moment on Strong was a made man. And from that moment on, wherever Strong went Rockefeller and his associates were there somewhere in the background.
It was a Standard Oil veteran, Jack Gallagher, who gave Strong his big break in the Alberta oil patch when he quit his UN security job to return to Canada. Gallagher had been hired to create a new oil and gas exploration company by Henrie Brunie, a close friend of Rockefeller associate John J. McCloy. Strong signed on as Gallagher's assistant.
When Maurice Strong suddenly decided to quit his job, sell his house, and travel to Africa, he found a job with Rockefeller's CalTex in Nairobi.
When he quit that job in 1954 and started his own company back in Canada, he hired Brunie to manage it and appointed two Standard Oil of New Jersey reps to its board. By this point he was in his late 20s and already a multi-millionaire.
Help us spread the ANTIDOTE to corporate propaganda.

Please follow SGT Report on Twitter & help share the message.