by Pam Martens and Russ Martens, Wall Street on Parade: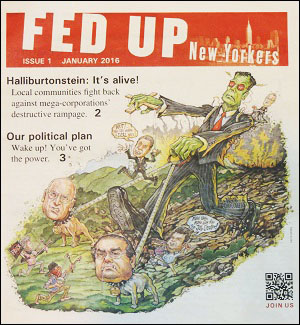 Presidential candidate, Senator Bernie Sanders of Vermont, is stumping across America urging citizens to help him create a meaningful political revolution to take back the country from the death grip of the one percent. His message is resonating. Sanders is attracting crowds of tens of thousands of disillusioned Americans.
Political revolution is also in the air in the state of New York where a group called "Fed Up New Yorkers" has just launched a newspaper whose stated purpose "is to lessen Big Money's grip on our political system and on our society." The newspaper founders say their project is both "a publishing project and a political plan."
Publisher and Editor-in-Chief of the project is Neil Fabricant, retired president of George Washington University's Graduate School of Political Management and a former legislative director of the New York Civil Liberties Union. Fabricant is also the author of the jaw-dropping book Mike! Wall Street's Mayor, a devastating expose on the former billionaire Mayor of New York, Michael Bloomberg. (You can read our book review here.) When we wrote our book review in 2012, Michael Bloomberg, whose source of wealth comes from Wall Street, was worth $22 billion. According to Forbes, as of January 12, 2016, he is now worth $39.3 billion – an unfathomable jump of 78.6 percent in four years.
Michael Bloomberg's experience has been far different than the middle class in America, which has seen its median wealth decline by 28 percent from 2001 to 2013, due in no small part to the Wall Street fraud that produced the greatest economic collapse in 2008 since the Great Depression of the 30s.
The managing editor of the newspaper is John Meyer, a veteran journalist and newspaper editor who has covered government and politics for newspapers in Ohio and North Carolina, and supervised state capitol and Washington bureaus for the New York Times Regional Newspaper Group.
Read More @ Wallstreetonparade.com
Help us spread the ANTIDOTE to corporate propaganda.

Please follow SGT Report on Twitter & help share the message.