by Pam Martens and Russ Martens, Wall Street on Parade: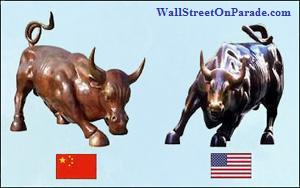 Yesterday, Wharton Finance Professor Jeremy Siegel appeared on CNBC to make a prediction that the S&P 500 index would experience a 10 percent upside by the end of this year. You might want to evaluate that prediction against what Professor Siegel also believes to be the U.S. situation with China. In answer to a question as to why the economic situation in China won't weigh on the U.S., Siegel said: "We export very little to China" (see second video at this link). That statement, in fact, is false. According to detailed data from the U.S. Census Bureau, China is our third largest source of exports, at $106.1 billion through November – behind only Canada and Mexico.
Ruptures in the stock market in China have now cratered U.S. stocks twice in the past six months. Thanks to spillover from China, the first four trading sessions of the New Year for the Dow Jones Industrial Average and the S&P 500 Index have the distinction of being the worst in U.S. history. That's nothing to sneeze at.
Unfortunately for U.S. stock investors, there are far more linkages between China and the U.S. than Professor Siegel or mainstream media want to delve into. For starters, China has a far greater presence in U.S. stock markets than is generally recognized. As we reported in July of last year, the New York Stock Exchange shut down trading for three hours and 40 minutes as a result of a reported computer "glitch" during a period of ruptures in the Chinese stock market. We wrote at the time:
"Unknown to most Americans, some of those shuttered stocks on the New York Stock Exchange were Chinese stocks and among the largest capitalized companies in the world. More than 100 Chinese companies trade on U.S. stock exchanges as American Depository Receipts (ADRs) and almost 200 Chinese company ADRs trade over-the-counter in the U.S. (Individual shares are referred to as ADS, American Depository Shares.) Last year, Thomson Reuters estimated the market value of Chinese companies listed on just the New York Stock Exchange and Nasdaq Stock Market at more than $1.4 trillion.
"With the Chinese stock market rupturing over the past week and trading in more than a thousand stocks suspended in China, the spillover has hit the U.S. market hard."
Two large Chinese companies that trade in the U.S. as ADRs are China Mobile and China Life Insurance. Their ADRs have lost 46 percent and 45 percent, respectively, since April of last year.
Read More @ Wallstreetonparade.com
Help us spread the ANTIDOTE to corporate propaganda.

Please follow SGT Report on Twitter & help share the message.