by Pam Martens and Russ Martens, Wall Street on Parade: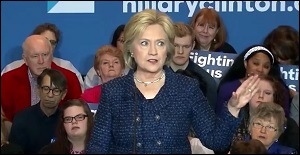 Hillary Clinton was stumping in Iowa last week, promising supporters that if she is elected President she will fight to get rid of the U.S. Supreme Court decision, Citizens United, which allows unlimited corporate money to influence elections. At one campaign stop, Hillary said the decision is having "pernicious effects on our electoral system."
Hillary elaborated further on her views in an opinion piece for CNN last week, writing:
"It's time to reclaim our democracy, reform our distorted campaign finance system and restore access to the ballot box in all 50 states.
"That starts with reversing Citizens United. And that's where my comprehensive plan to restore common sense to campaign finance begins. As president, I'll appoint Supreme Court justices who recognize that Citizens United is bad for America. And if necessary, I'll fight for a constitutional amendment that overturns it."
That's a pretty bold claim from a candidate that has opened the spigots herself to corporate money – big chunks of which are being raised for her by registered lobbyists who work for lobbying firms employed by the likes of Wall Street heavyweights JPMorgan Chase, Citigroup, Goldman Sachs, Wells Fargo, Credit Suisse and every major trade association representing Wall Street.
Not only are the executives, employees and PACs of the biggest Wall Street firms swelling the Hillary Clinton campaign coffers but individual registered lobbyists of some of the most powerful lobby firms in Washington D.C. are holding fundraising parties for Hillary or soliciting funds for her campaign. Hillary could simply refuse to take this money. Instead, she's raking it in.
According to the Federal Election Commission, as of September 30, 2015, Hillary had raised over $3 million from Federally registered lobbyists in just a six-month span from April 1, 2015 through September 30, 2015 – the latest period for which filings are available. One of the lobbyists raising funds for Hillary is Steve Elmendorf of the lobby firm Elmendorf Ryan. According to the Center for Responsive Politics, in 2014 that firm collected $10.4 million to lobby Congress on behalf of corporate interests. In 2014, its clients included some of the biggest players on Wall Street: Citigroup, Goldman Sachs, the New York Stock Exchange and two Wall Street trade associations: SIFMA and the Financial Services Forum, which consists of 16 CEOs of the largest banks and financial firms on Wall Street.
Read More @ Wallstreetonparade.com
Help us spread the ANTIDOTE to corporate propaganda.

Please follow SGT Report on Twitter & help share the message.