by Steve St. Angelo, SRS Rocco Report: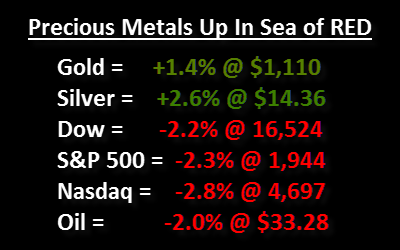 If we look around the majority of the market today, not much is up besides gold and silver. Not only is the Dow Jones down big time, so are the S&P 500 and Nasdaq. Hell, even oil is lower by more than 2%. What we have here is gold and silver floating up nicely in a sea of RED. Oh, by the way… the U.S. Dollar is down a hefty 100 basis points. Well done.
As I stated in the title, investors better get used to days like this… because it's just the beginning. There's gonna be a lot more RED in the broader stock and bond markets. If investors think the prices of gold and silver are going to continue down much lower along with the broader markets… think again. It's highly unlikely, as they have been crushed over the past four years.
The downside risk in the value of gold and silver is a fraction compared to the highly propped up stock and bond markets.  While precious metal investors continue to belly ache about the current low price of the metals, they fail to realize there really isn't much else worthwhile owning going forward.
This includes most paper and physical assets such as the bell-weather of REAL ESTATE.  Real Estate will no longer be the safe asset to own in a future when we start to experience the collapse of the U.S. and Global Oil Industries.  I am not saying this will happen tomorrow, or next year… but it just gets worse from here on out.
Market Timers Are Playing Russian Roulette… GOOD FRICKEN LUCK
I hear through many contacts, articles and interviews that there are one hell of a lot of folks who are trying to time their EXIT of the markets… LOL.  Good luck with that.  While some will be successful in getting out with some fiat profits, I imagine most will be caught like a deer in the headlights.  Who knows how this unfolds going forward, but I gather there will be a lot for which investors are terribly unprepared for.
Read More @ SRSroccoreport.com
Help us spread the ANTIDOTE to corporate propaganda.

Please follow SGT Report on Twitter & help share the message.