by Gordon T. Long, GoldSeek: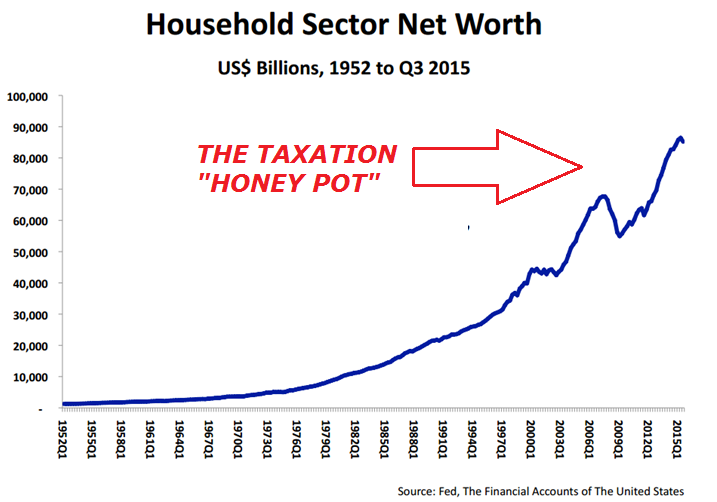 The Financial Repression Authority sees the massive government tax grab already quietly underway accelerating in 2016 in most of the developed economies.
This 'grab' will be a desperate political act driven by underfunded, and in a significant number of cases, unfunded public pension which will unfold at all three levels of government, Federal, State and City /Local government. It will be disguised by different focal emphasis and appear to evolve in an uncoordinated manner – but it will occur!
To spot its telltale fingerprints we should expect the following words to become much more prevalent in the "public narrative" throughout 2016 and to see EACH of these which we explore in this article to increasingly and significantly extract money from taxpayer wallets:

Capital Gains Tax,
Property Tax
Global Wealth Tax (PFIC, FATCA, GATCA),
Civil Forfeiture Fines,
Means Testing,
Licensing Fees,
Usage, Tolls & Emergency Services Fees,
Inspection Fees,
Processing Fees,
Fines (Police and Agency)
Ticketing,
School Activity, Equipment & Supply Fees,
Inheritance Tax,
Social Security Taxation Rate
The Wealth Effect is believed by the government to have pushed up taxpayer US Household Net Worth by $30 Trillion or 55% from the Financial Crisis low.
The US government is coming after that money! They see it as a "Honey Pot" that can't be resisted.
The following is how the Financial Repression Authority expects the government to undertake this 'grab'. However, never under estimate the government's abilities to come up with new schemes to finance its insatiable largesse.
Help us spread the ANTIDOTE to corporate propaganda.

Please follow SGT Report on Twitter & help share the message.